Nailed: Far-right British soldier jailed for homemade nail bomb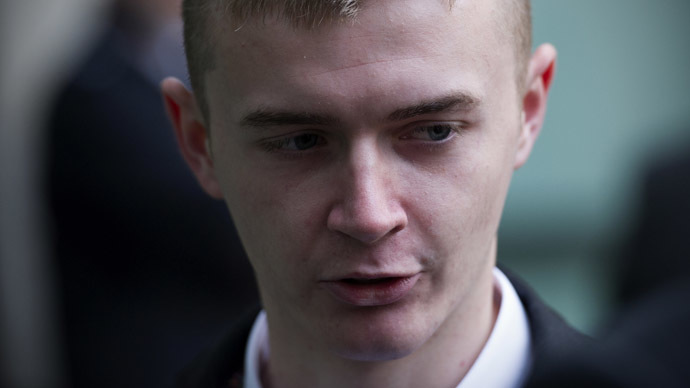 A British soldier has been jailed for two years after making a nail bomb filled with deadly shrapnel in his bedroom.
Ryan McGee, 20, made an IED by packing a pickle jar with 181 metal screws and bits of glass designed to maximize the amount of damage when it detonated.
He was detained in December last year while serving with the 5th Battalion at an Army base in Paderborn, Germany.
Police found the bomb last November while carrying out a raid on his three-bedroom family home in Eccles, Manchester, as they suspected that his brother Steven, 20, was in possession of child abuse images, according to the Manchester Evening News.
Officers also discovered an arsenal of guns and knives and extremist right wing material in the first-floor bedroom, which was draped in English Defence League (EDL) flags.
On Friday, a court heard McGee was interested in the far-right group and had watched a video of two men being executed under a swastika flag.
READ MORE:Terror attack on Britain 'inevitable' – senior counter-terrorism official
Prosecutor Roger Smart said: "He [McGee] surfed the internet, he bought supplies, and he watched videos and read books about how to make explosive devices."
Smart added: "The haul of imitation firearms, ammunition, and improvised explosive device components suggests a preoccupation that goes far beyond any amateur enthusiast's collection.
"It was a targeted and sustained gathering, compiling and retention of items which in his skilled hands had the capability of taking life."
The rifleman had earlier admitted to buying a copy of the Anarchist Cookbook, which contains instructions for manufacturing explosives and illicit drugs. He reportedly searched online about how to make detonators and experimented with improvised booby traps.
McGee reportedly admitted that between May 31 and November 29, 2013, he had a document containing information of a kind likely to be useful to a person committing or preparing an act of terrorism.
READ MORE:UK foils 'nail bomb and shotgun' revenge terror plot targeting EDL
McGee pleaded guilty to making the improvised device. During his sentencing at the Old Baily, Recorder of London Brian Barker QC said: "The fact of the matter is, any explosive device in the wrong hands could cause untold misery to anyone on the receiving end.
"Sadly, we live in a violent age. Let's be quite clear that any experimentation by anybody with these kinds of weapons must lead to severe sentences.
"What you have lost is your reputation and your future but I hope in due course you can make amends for that."
A photo later emerged of McGee in Ku Klux Klan regalia, as did diary notes detailing admiration for Adolf Hitler and other far-right leaders, according to the International Business Times.
McGee is still a member of the armed forces, but his status is said to be under review.