​Petition to revoke Tony Blair's Save the Children award hits 100,000+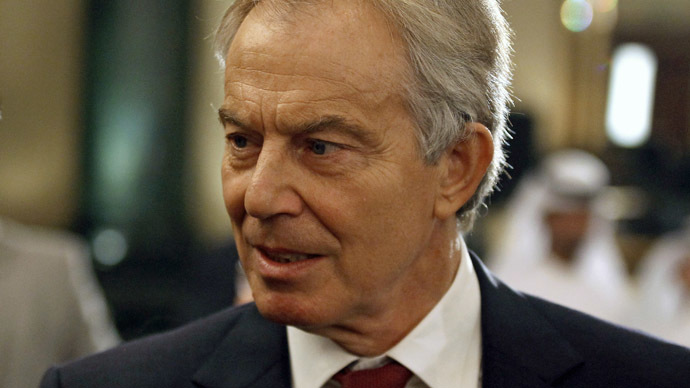 A petition calling for former Prime Minister Tony Blair to have his Save the Children Global Legacy Award revoked has reached more than 100,000 signatures.
Staunch opposition to the decision to award Blair the prize also came from many of the international charity's own staff, with an outraged internal letter calling the award "morally reprehensible."
The award was given to Blair for his role in the Make Poverty History campaign, when, at the 2005 Gleneagles G8 Summit, he persuaded the wealthiest nations to provide $40 billion in aid relief to the poorest.
While serving Britain as prime minister, Blair formally committed the country to allocating 0.7 percent of its GDP to overseas aid. His administration also founded the Department for International Development (DFID).
READ MORE:'Diabolical & absurd': Outrage as Save the Children gives Tony Blair Global Legacy Award
The internal Save the Children staff letter also said awarding Blair "endangers our credibility globally."
The online petition reportedly received 200 signatures in less than six hours.
"We consider this award inappropriate and a betrayal to Save the Children's founding principles and values. Management staff in the region were not communicated with, nor consulted about the award and were caught by surprise with this decision," the letter said.
In response to the outspoken criticism, the UK branch of Save the Children issued a statement saying their staff were entitled to "strong views, on a whole range of issues" and that they respected "the diversity of views."
Criticism also spilled over on social media, with Executive Director of Human Rights Watch tweeting "revoke the award for Tony Blair, the dictators' preferred PR agent."
93,000 ask @SavetheChildren to revoke award for Tony Blair, dictators' preferred p.r. agent. http://t.co/6PUI4GCmDfpic.twitter.com/jesR5gZqpd

— Kenneth Roth (@KenRoth) November 26, 2014
The former prime minister is central to Sir John Chilcot's inquiry into Britain's controversial and protracted war in Iraq. UK MPs, campaigners and citizens have long argued that the brutal war divided Britain and blackened Blair's decade-long leadership.
Damning allegations relating to Blair's role as Middle East envoy and business dealings with autocratic rulers and others in the region have also been leveled.
Earlier this month, it emerged that Blair signed a multimillion pound contract with a Saudi Arabian oil company in 2010 to broker secret deals on the firm's behalf with Chinese state officials.
The revelation raised serious questions over the former PM's diplomatic role as Middle East envoy, and his personal vested interests in the region.
When news of the covert deal surfaced, Oliver Miles, a former UK ambassador to Libya who has called for Blair to be removed from his role as Middle East peace envoy, said the former prime minister should disclose his financial interests in the region.
You can share this story on social media: