'Diabolical & absurd': Outrage as Save the Children gives Tony Blair Global Legacy Award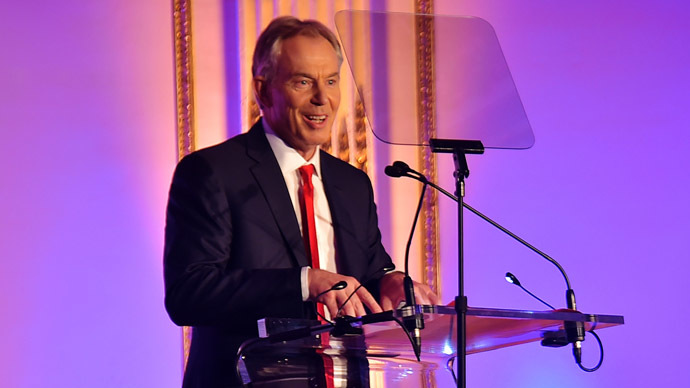 A decision by UK charity Save the Children to give Tony Blair its annual Global Legacy Award has unleashed a torrent of criticism highlighting the former PM's role in Britain's 2003 Iraq war and his controversial business dealings in the Middle East.
The former Labour leader, who is currently a key focus of a public inquiry into Britain's invasion of Iraq, received the honor on Wednesday night at a star-studded gala hosted by the charity in New York.
Save the Children's decision to offer Blair the award has provoked outrage across the UK, with critics insisting the move utterly discredits the charity.
@georgegalloway World's biggest criminal Tony #Blair has been awarded 'Global Legacy Award' from @SavetheChildren. Pls withdraw the award.

— Awakening Tempest (@AwakeningT) November 20, 2014
Blair was honored with Save The Children's 'Global Legacy Award' in supposed recognition of his vanguard leadership on the world's international development stage.
While serving Britain as prime minister, he formally committed the country to allocating 0.7 percent of its GDP to overseas aid. His administration also founded the Department for International Development (DFID).
Following the announcement of Blair's award at the Illumination Gala in New York's Plaza Hotel, he fraternized with Hollywood celebrities such as Ben Affleck, Jennifer Garner and Dakota Fanning.
Speaking at the gala, Blair said: "From the beginning of humankind there has been brutality, conflict, intrigue, the destructive obsession with a narrow self-interest.
"But throughout all human history, never has been extinguished that relentless, unquenchable desire to do good. To act not only in self-interest and sometimes to even to act in defiance of it."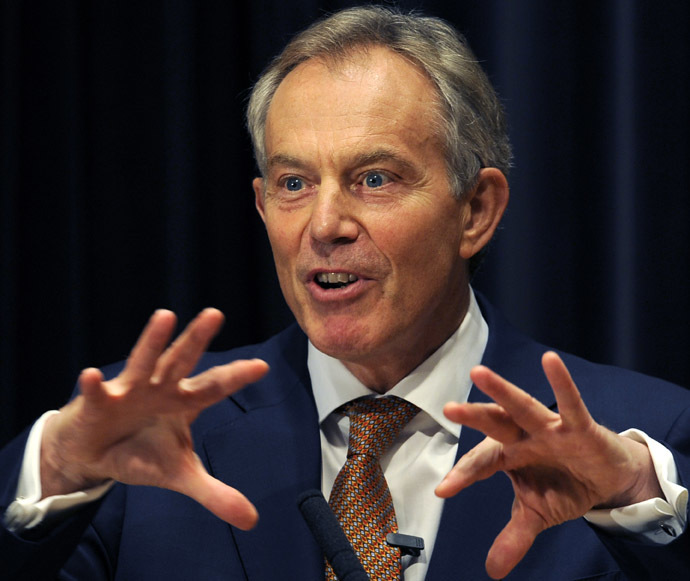 The former prime minister is central to Sir John Chilcot's inquiry into Britain's controversial and protracted war in Iraq. UK MPs, campaigners and citizens have long argued that the brutal war divided Britain and blackened Blair's decade-long leadership.
Damning allegations relating to Blair's role as Middle East envoy and businesses dealings with autocratic rulers and others in the region have also been levelled.
Earlier this month, it emerged that Blair had signed a multimillion pound contract with a Saudi Arabian oil company in 2010 to broker secret deals on the firm's behalf with Chinese state officials.
The revelation raised serious questions over the former PM's diplomatic role as Middle East envoy, and his personal vested interests in the region.
I kid you not. World's most despicable crook Tony #Blair has just been awarded 'Global Legacy Award' from @SavetheChildren@georgegalloway

— Joe Cook (@joecooknow) November 20, 2014
When news of the covert deal surfaced, Oliver Miles, a former UK ambassador to Libya who has called for Blair to be removed from his role as Middle East peace envoy, said the former prime minister should disclose his financial interests in the region.
Earlier this year, Blair managed to successfully quash a Serious Fraud Office investigation into alleged corruption regarding an arms deal with Saudi Arabia.
In July, a former political associate of Blair's suggested his role in advising the Egyptian government was highly convenient.
The former prime minister could battle the threat of Islamism on the one hand, he told the Guardian, and sink his teeth into "mouth-watering business opportunities" in return for Bush-era advocacy on the other.
Incensed by the revelation of Blair's award, UK citizen Joe Cook said the charity's decision to honor him in this regard was "horrendous, diabolical and absurd."
Another Briton took to Twitter to demand Save the Childen revoke the award, arguing the former prime minister was "the world's biggest criminal."
Co-conspirator to the killing of at least 3 million HUMANS. Let's give him an award. #Blair #GlobalLegacyAwardhttp://t.co/0LIp3fyTcE

— Kaatje Kabelkrant (@kaatje36) November 20, 2014
You can share this story on social media: