Tony Blair: Ending immigration would be 'disastrous' for Britain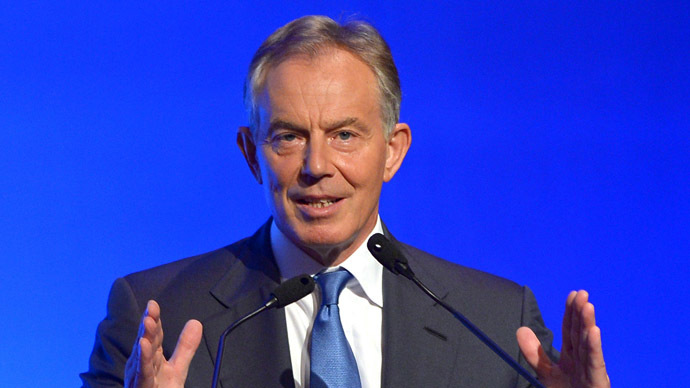 Former British Prime Minister Tony Blair has said the United Kingdom Independence Party (UKIP) has a "rather nasty core of prejudice" and warned that ending immigration would be a "disaster" for the country.
In an interview with Progress magazine, Blair said, "Let's be clear: we don't think that UKIP's right, not on immigration and not on Europe – so the first thing you've got to be really careful of doing is […] saying things that suggest that they're kind of justified in their policy, because what you're actually going to do is validate their argument, when in fact you don't believe in it."
Blair urged Labour to refrain from "chasing after the policies of a party like UKIP."
He warned that Nigel Farage's party would "take this country backwards economically, politically, in every conceivable way, and who, ultimately, at the heart of what they do, have a rather nasty core of prejudice that none of us believe in, which you've actually got to take on and fight."
While he admitted that border controls were important to ensure people do not feel they have "lost control over their communities and their lives," he said stopping immigration would be a "disaster" for Britain.
READ MORE:UKIP cruising towards 2nd parliamentary seat – poll
Blair's comments come as Labour leader Ed Miliband announced a government led by his party would immediately introduce an immigration bill. Miliband also said the EU "needs to change if we are to deal with the problems of immigration."
Blair also attacked Prime Minister David Cameron's handling of the issue of Europe. He said the Conservatives "haven't dealt" with anti-Europe sentiment and have allowed it to "run away again with their party." He added that the trend does not do the Tories "any electoral favors."
Responding to Blair's comments, a UKIP spokeswoman said: "For once we actually agree with Tony Blair.
"The Labour Party should stand up and be frank about what they believe and their vision for the UK, particularly on immigration, and we will see how many blue collar votes come flooding over to UKIP," she said.
"As we all know, Tony's plans are always what's best for the country."
You can share this story on social media: