Britain's plan to limit EU workers 'illegal' – European Commission head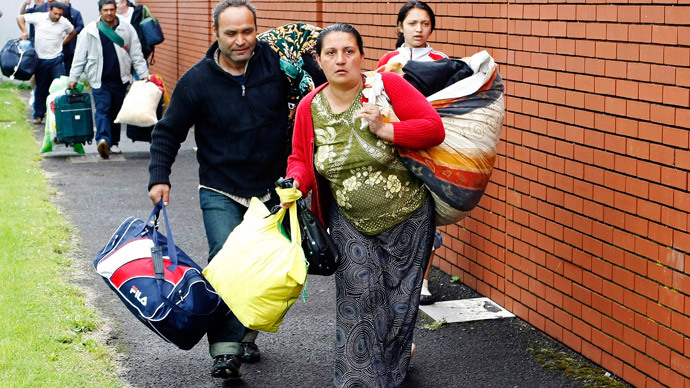 European Commission president Jose Manuel Barroso says that freedom of movement is an essential principle of the EU, and any plan by Britain to cap the number of migrants through the limitation of national insurance numbers would be illegal under EU law.
READ MORE: Thousands turn out for 'Britain Needs a Pay Rise' in London (PHOTOS, VIDEO)
British Prime Minister David Cameron plans to reduce the number of low skilled migrant workers coming to the UK from other EU countries by limiting the number of national insurance numbers given to them.

Migrants arriving from Europe would be given a temporary national insurance number, which would stop them from indefinitely living in Britain or being able to claim benefits for an unlimited period of time.

The aim of the cap is to limit immigration to under 100,000 people a year, the Sunday Times reported. About 250,000 migrants currently come to Britain to work each year.

The policy is thought be to an important part of a tougher set of Conservative policies on immigration. It comes as the party continues to lose ground to the UK Independence Party (UKIP). However, government sources say the supposed policy is "speculation," the Telegraph reported.

But Barroso was clear that any such move would not be accepted by Brussels.

"The principle of freedom of movement is essential, we have to keep it," he said.

Cameron has promised to address the concern of voters who are abandoning the Conservatives for UKIP, and has said he wants to "make sure we have more effective control of immigration."

In recent weeks, two Tory MPs defected to UKIP, and the anti-EU party won an important victory in the Clacton-on-Sea by-election earlier this month. The Conservatives are worried ahead of a separate by-election next week, fearing another UKIP MP will be voted in.

Even Labour is being challenged by UKIP in its northern heartlands.

Cameron has said he wants to try to renegotiate the UK's relationship with the EU, before holding a referendum on whether Britain should continue to be a member. But UKIP leader Nigel Farage said that Barroso's comments had made it "crystal clear" that Cameron is fighting a losing battle and that they compromised "Cameron's pretense that he can in any way do anything to stop large numbers of EU migrants coming to this country."

Former Deputy Prime Minister and Conservative peer Lord Hesletine struck a more conciliatory approach.

The pro-European Heseltine said that Barrosso's comments that freedom of movement within the EU could not be renegotiated were incorrect.

"It's been negotiable ever since we've had new accession countries because there's always been an anxiety that opening the door would produce a huge number of immigrants in a very short period of time so there's been a phasing arrangement in place," he told Sky News.
You can share this story on social media: