'Reckless or malicious' civilian drone use 'harassing' public – police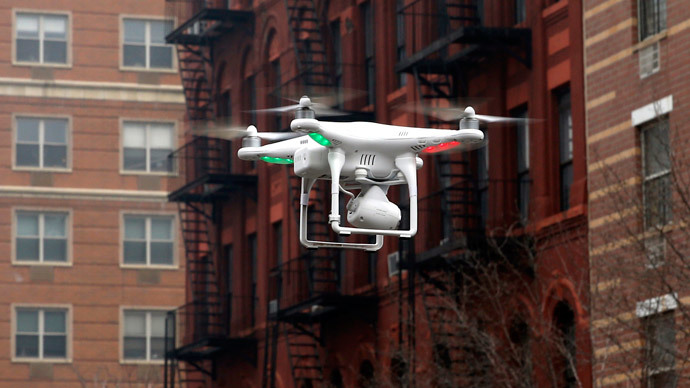 Unlicensed drones controlled by members of the public are being used to harass people, police chiefs have warned. They further warn the technology is being used in protected airspace.
Addressing the House of Lords, Chief Inspector Nick Aldworth said unmanned drones were "undoubtedly" being used in a "reckless" or "malicious" way.
The Lords Internal Market, Infrastructure and Employment Committee is holding an inquiry into the civil use of unmanned aircraft.
Committee Chair Baroness O'Cathain expressed concerns about breaches of privacy caused by flying drones close to private property.
READ MORE: Amazon to test same-day UK delivery drones
Aldworth, however, who is part of a group tackling the social implications of civil drone use, said police are unable to deal with or prosecute individuals because there is currently no law in place covering the misuse of drones.
Current rules by the Civil Aviation Authority (CAA) state there is no need to gain permission to use drones if there is no intention to fly close to people or properties, and you will not get "valuable consideration" (payment) from the flight.
The CAA also say permission is not required for 'practice' or demonstration flights.
Aldworth said legislation could be used to tackle suspected voyeurism where drones are found "hovering outside bedrooms for whatever nefarious reasons."
The committee further heard that it was difficult to identify perpetrators of antisocial drone behavior.
Currently the main way to capture potential harassment is through incriminating footage found online, but Aldworth said it was very hard to catch someone flying a drone, which "whizzes past your window and catches something that you would rather it didn't catch," unless the police arrive immediately.
Aldworth said his priority was to find a "sensible application" of existing laws, rather than creating new ones.
"We also know it has been used to embarrass people – either VIPs or members of the public," he said, but stressed concerns were over criminal behavior.
"We have undoubtedly seen it flown in controlled airspace," he added, "and we have seen it flown in contravention of the air navigation orders."
"I think that concern arises by the fact that there is clearly a means of offending that we do not seem to be able necessarily to address quickly."
A report published in October further raised concerns over the effect of drones on public "safety, security and privacy."
The University of Birmingham Policy Commission claimed drones could be used in terror attacks at large public gatherings.
READ MORE: 'Killer robots': Ex-GCHQ boss calls for drone controls
The report said the threat from drones was "a serious one, whether [for] criminal or terrorist purposes."
"Crowds at sporting events or rallies could be vulnerable in a similar way if a future terrorist group were to look for means of dispersing chemical or biological agents," the report added.
"While such a scenario has so far not posed a real danger to UK citizens ... it is a threat that the UK authorities took seriously during the 2012 Olympics."