Amazon to test same-day UK delivery drones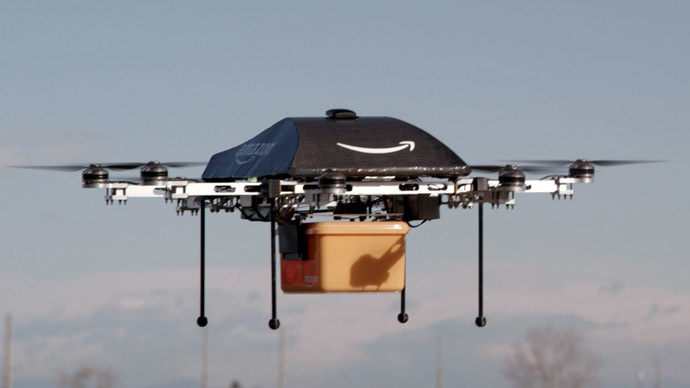 Amazon is planning to test a fleet of unmanned delivery drones in Cambridge, as the retail giant develops plans to deliver parcels using UAVs to millions of customers within half-an-hour of orders being placed.
The Seattle-based company has mainly developed its Amazon Prime Air program of same-day delivery drones in the US, with test flights also being held in Australia. Amazon is now looking to hire drone 'pilots' in the UK.
Amazon has begun building a team to test delivery drones in Cambridge, England, where it runs an R&D office.
On the company's website, job openings for a Flight Operations Engineer, a Project Manager, a Site Leader and a Software Development Engineer in the UK are advertised, saying Amazon is "working on the future."
"If you want to apply state-of-the-art technologies to solve extreme-scale real world problems … If you want the satisfaction of providing visible benefit to end-users in an iterative fast paced environment … This is your opportunity," the jobs adverts say.
The job description for the Flight Operations Engineer adds: "You can expect to collaborate on test plans, plan the test evolution, and execute the flights while working closely with our flight engineering and flight test teams in Seattle."
Jeff Bezos, founder of the retail giant, revealed last year that Amazon was planning to use drones to deliver packages. He said they were working on an armada of flying 'octocopters' that can deliver products weighing under five pounds to buyers within 30 minutes of an order being placed.
"These are effectively drones, but there's no reason that they can't be used as delivery vehicles. I know this looks like science fiction. It's not. It's very green, it's better than driving trucks around," Bezos told CBS's 60 Minutes show at the time.
In July, Amazon asked the US Federal Aviation Administration for permission to publicly fly drones that could travel as fast as 50 miles per hour (80kph).
READ MORE:Drone developers: High-tech UAV & robotics lab to launch in London
The legislation around commercial drone operations in the UK remains complex. The Information Commissioner's Office (ICO) issued new guidance on drone operations on Thursday, warning that drone pilots must take people's privacy into account.
The ICO said pilots should plan their drone's flight in advance and not let it out of sight, to also reassure the public.
"If you are using a drone with a camera, there could be a privacy risk to other people," the office says.
"The likelihood of recording individuals inadvertently is high, because of the height they can operate at and the unique vantage point they afford."
A report last month by the University of Birmingham Policy Commissions warned that the use of drones in the UK will significantly increase over the next two decades, raising "significant safety, security and privacy concerns."