Birds vs GoPro: What happens when nature meets technology (VIDEOS)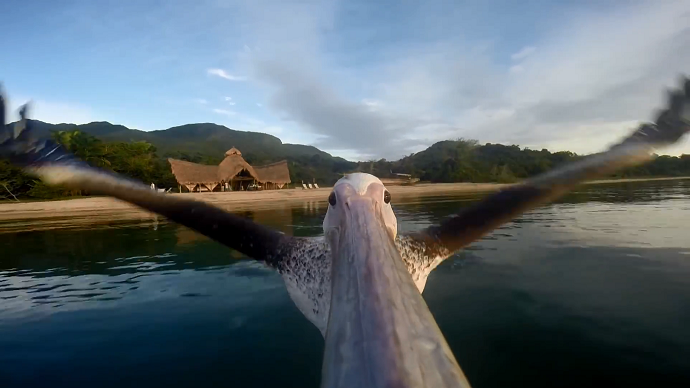 Ubiquitous GoPro cameras and video drones have provided stunning shots of birds in their natural habitats. RT looks at five amazing clips of birds attacking and inspecting the cameras - and a feathered friend who filmed a flight with one of the gadgets.
A Russian paraglider had a lucky escape in the Himalayas after he collided with a griffon vulture mid-air and his canopy became tangled. He managed to open his second parachute and descend to safety. The extreme sport lover also saved the life of the bird, who became tangled in the canopy after he landed.
Hawks can be territorial and this bird of prey was no exception. Upon seeing a drone flying above a soccer field in Cambridge, Massachusetts, the bird made a bee-line for the intruding device. Christopher Schmidt, who was flying the drone, said the bird "wasn't too happy" with its presence and it was not long before it came crashing back down to earth with a bang.
This pelican, on the other hand, was quite happy with a camera being mounted on his beak - and he even filmed his very first flight with it. Abandoned by his flock, Bigbird - as he was nicknamed by his carers - had been caught in a storm and washed up on a beach in Tanzania. His rescuers managed to nurse him back to full health and taught him how to fly.
Magpies have often been crowned the thieves of the bird kingdom. However, this bald eagle was very eager to make off with a camera. It had been set up to film the birds of prey, but this one got a little too close to the action and flew off with the device. The owner was left with the unenviable task of hunting down his GoPro camera, which he eventually found up a tree.
A covert spying operation to film a penguin colony was thwarted by an alert striated caracara. The bird, which is found in the south of Argentina and Chile, noticed a strange object lying on the grass - a secret camera made to look like an egg. After a brief game of 'bird football,' the caracara eventually flew off with the egg, providing quite possibly the first ever aerial filming of a penguin colony made by a bird.
You can share this story on social media: