Gangsta paradise? London-wide gun amnesty launched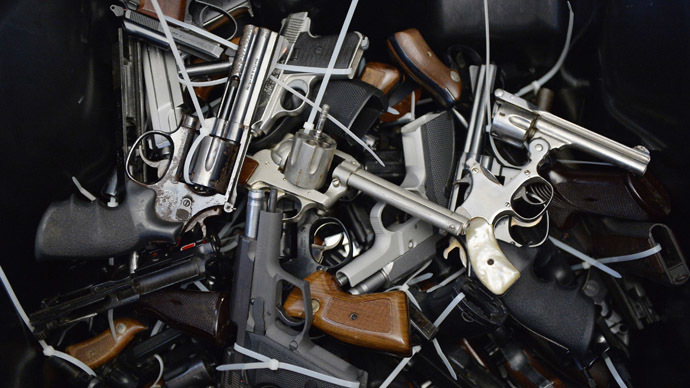 The Metropolitan Police has launched a London-wide gun amnesty under the slogan "Give up your Gun" in which city dwellers can hand in their firearms and ammunition anonymously without fear of prosecution for unlicensed or illegal ownership.
Londoners have the opportunity to anonymously hand in the weaponry at local police stations during a window of two weeks, until 23 November.
The campaign, under the hashtag #GiveUpYourGun, is the first of its kind in six years.
While those handing in firearms will not face prosecution, each weapon will be forensically analyzed for evidence to determine if it has been used in crime.
Detective Chief Superintendent Dean Haydon, head of the Trident Gang Crime Command, said: "In recent years we have seen significant reductions in gun crime offences – financial year 2013/14 was the lowest annual total in six years."
He said 300 firearms were seized in police operations last year.
"However we are not complacent, our primary aim is keeping Londoners safe, we recognize the devastating impact of gun crime on those affected by it," Haydon added.
"The surrender provides an opportunity to significantly reduce the number of firearms in circulation on the streets of London."
"Some gang members have exploited a legislative loophole around antique firearms. Make no mistake, these are live weapons which can be used to hurt or injure someone."
Laws around so-called antique firearms were tightened in July. Offenders who have served or received a criminal sentence are no longer allowed to possess an antique gun. Soon firearms dealers will be required to keep computerized records of sales for at least 20 years.
Meanwhile, new legislation passed earlier this year increased the maximum jail term for illegal gun possession from 10 years to life imprisonment.
Operations are in place in London, Liverpool and Manchester and surrenders are planned in counties across the UK.
A national surrender campaign, launched after the 1996 Dunblane massacre, in which 16 children were killed in their classrooms, yielded 23,000 firearms and 700,000 rounds of ammunition.
In 2003, the killing of two teenage girls, Charlene Ellis and Letisha Shakespeare, in Birmingham led to another gun amnesty. Nearly 43,000 firearms and more than 1 million rounds of ammunition were handed in to police stations across the UK.