Lock, stock and a smoking printer? UK police seize '3D-printed gun parts'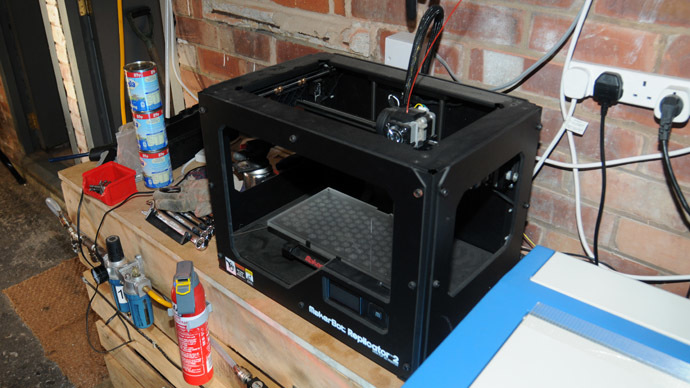 British police say they've seized a 3D printer and 3D-printed gun components, including a trigger and a magazine capable of holding bullets, during a raid in Manchester. Critics, however, say they found nothing more than spare printer parts.
The alleged gun parts were discovered, along with the 3D printer, when officers from the Greater Manchester Police force carried out a search Thursday in the Baguley area of Wythenshawe, in the south of Manchester.

If the parts prove to be legitimate, the bust would represent the first-ever seizure of the next-generation weapon, which can be constructed by a 3D printer almost entirely out of plastic – creating the possibility of evading detection by airport security metal detectors.

The components are now being forensically examined by firearms specialists to establish if they could be used to construct a functional device.

A man has been arrested on suspicion of making gunpowder and is currently in custody for questioning.

Police fear such weapons can be created by criminals in the privacy of their own homes, thus evading detection by security scanners at airports and other high-risk targets.

"If what we have seized is proven to be viable, components capable of constructing a genuine firearm, then it demonstrates that organized crime groups are acquiring technology that can be bought on the high street to produce the next generation of weapons," Greater Manchester Detective Inspector Chris Mossop told Sky News.

"In theory, the technology essentially allows offenders to produce their own guns in the privacy of their own home, which they can then supply to the criminal gangs who are causing such misery in our communities," he said. "Because they are also plastic and can avoid X-ray detection, it makes them easy to conceal and smuggle. These could be the next generation of firearms."

A commenter on the California tech-blog GigaOM noted, however, that the parts being paraded in the media "are actually spare parts for a 3D printer," and not components for a weapon.

"If the police thinks that the part on the photo is a trigger, just search mk8 on thingiverse.com and you will see that it's a upgrade part for a printer. I really don't get this media/police fascination relating to 3d printers with guns… it's a tool to make 3d parts, not guns," user nuno gato wrote.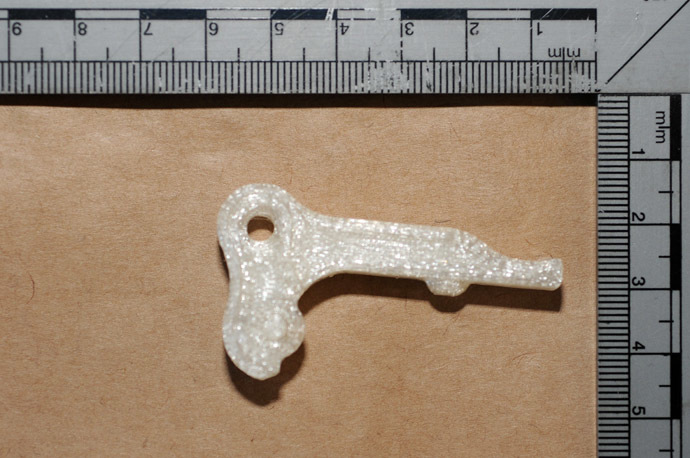 Hours later, New Scientist came to the same conclusion, noting the "trigger" identified by police appears to be part of a MakerBot 3D printer designed to extrude 3D-printing plastic to make an object. The "clip," incidentally, looks like a part intended to hold spools of plastic.

"It does look like the MakerBot part," Stuart Offer, of 3D-printing firm 3T RPD in the UK city of Newbury, told the magazine. "These 3D printed guns seem to have hit the headlines, but I've no idea why they take off so much," he said, noting that homemade weapons were not that difficult to manufacture. "A little engineer in his shed with a mill down the bottom of the garden could make a proper metal barrel capable of firing a high-velocity bullet."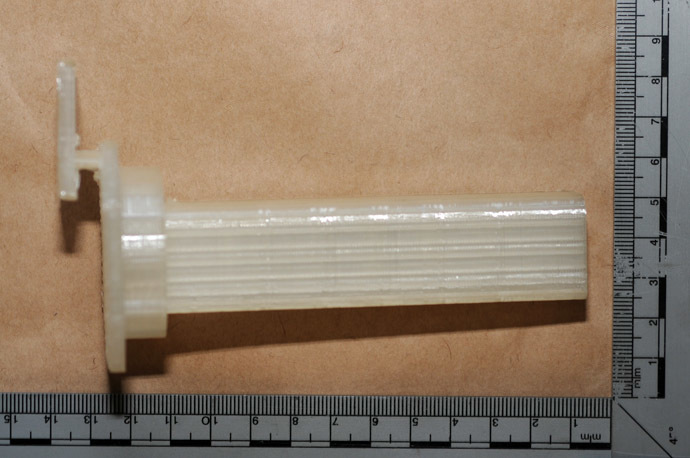 3D printed weapons first came to the attention of law enforcement officials worldwide after Defense Distributed announced it had successfully test-fired a handgun created with a 3D printer.

In May, the organization, founded by a 25-year-old crypto-anarchist Cody Wilson, posted blueprints for the single-shot .380-caliber Liberator online.

The files were downloaded more than 100,000 times in just two days before the US State Department demanded that they be removed. Britain was the No. 5 downloader of the plans upon publication, with Germany, Brazil, the United States and Spain filling out the top four positions.

A working version of the Liberator went on display in September in the Victoria and Albert Museum in London.

The only non-plastic part of the Liberator is a tiny nail that acts as the firing pin, as well as a .380 cartridge it fires. Wilson is reportedly working on fabricating plastic bullets, a move that would make it nearly undetectable at security screenings.  3D-printed firearms can also be manufactured without serial numbers or unique identifiers, tripping up ballistics testing.

Anyone with a sufficiently sophisticated 3D printer, which can be bought for $1,725 or even less, can make such weapons.

After users download designs for guns or components, the printers themselves ejects molten plastic to produce 3D shapes of whatever design has been downloaded.

An actual 3D gun can be made for as little as $25, according to a report by Forbes magazine.

Police agencies in Germany, Austria and Australia (https://www.rt.com/news/3d-gun-australia-police-758/) have been testing 3D weapons to get a better sense of their efficacy. Preliminary tests indicate a strong likelihood users could maim or kill themselves instead of the intended target, however, though the guns are expected to become increasingly sophisticated as technologies advance.

"In Germany and in most European countries, the possession of an unregistered weapon, even if it is manufactured at home, is illegal and punishable by law," Michael Brzoska, a security expert and director of the Institute for Peace Research and Security Studies at the University of Hamburg, recently told the New York Times. "But the temptation to try, if it's technically possible, is a great one."

While it is currently legal for a person to manufacture a firearm for personal use in the US, the production of weapons using 3D printers is already banned by a European Union directive to member countries.
The UK imposed a ban on handguns after the 1996 Dunblane Primary School massacre, when a gunman shot 16 children and one adult before committing suicide.

So far, there are no reported violence crimes committed with 3D printed weapons.