California, New York and DC look to ban 3D-printed guns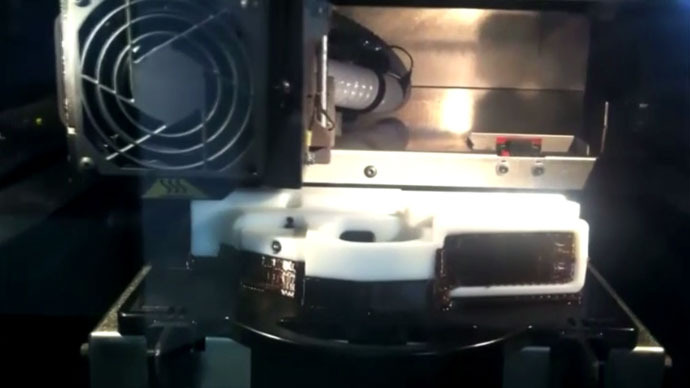 A handgun made almost entirely using a consumer-grade 3D printer fired a bullet over the weekend for the first time in the history of the infant technology. If some lawmakers have their way, it will also be the last.
Defense Distributed of Texas announced on Sunday that researchers fired a bullet designed for a traditional .380-caliber firearm with a gun built all but exclusively using digital blueprints, some plastic and an $8,000 printer. The only item aside from the bullet not printed out was a single nail that served as the firing pin.
As early s Tuesday, though, California State Senator Leland Yee was already looking to pass a bill that would outlaw other 3D weapons from being built outside of the factories where firearms are regularly assembled.
Sen. Lee, a Democrat that represents a large chunk of California that includes parts of San Francisco, issued a press release this week condemning Defense Distributed's inaugural 3D handgun.
"We must be proactive in seeking solutions to this new threat rather than wait for the inevitable tragedies this will make possible," Yee said.
Of major concern to the lawmaker isn't just the capabilities of 3D printer but how easily the technology can put weapons in the hands of convicted criminals and others who wouldn't normally be able to obtain a firearm. Thanks to blueprints drafted by Defense Distributed and published on the Web, anyone willing to spend the money on supplies could essentially have a working gun without ever leaving their home.
"Part of the reason we have background checks is to ensure that felons, criminals, are not going to have guns," Yee said this week. "[And] that those individuals who have mental health issues are not going to have guns.  And so now there is a gaping loophole to allow any individual to make a gun undetected, and the guns themselves are undetected. It's going to create a tremendously unsafe situation for the rest of society."
"What I'm looking at right now is to ensure that any individual who is going to make a gun out of these 3D printers go through a background check, just like any other individuals who purchase a gun," Yee said.
Elsewhere, lawmakers are looking to advance local 3D-printed gun bans as well. Washington, DC council member Tommy Wells (D-Ward 6) introduced a proposal that would do as much on Tuesday this week, and lawmakers in New York state have rallied similarly.
"Digital manufacturing technologies hold a lot of exciting potential to make manufacturing more affordable and more accessible. But in this respect, the technology is fast outpacing the laws. An undetectable firearm constructed on your computer may sound like science fiction, but unfortunately, it's already here and our laws have never contemplated this scenario. These weapons create a significant and immediate threat to public safety," Wells said.
In terms of regulating the weapons on a federal level, the challenges that arise there may match the already contested gun debate that continues to drive a rift through Congress. "[In the US] a person can manufacture a firearm for their own use," Donna Sellers of the US Bureau of Alcohol, Tobacco, Firearms and Explosives explained to the BBC. "However, if they engage in the business of manufacture to sell a gun, they need a license."
Defense Distributed indeed received an ATF license and was in turn cleared to make and sell guns. Cody Wilson, CEO of the company and the creator of the .380 caliber "Liberator," told BBC he's well aware that anyone can download the digital blueprints for his DIY firearm for free and have a dangerous firearm of their own that very day.
"I recognize the tool might be used to harm other people – that's what the tool is – it's a gun," Wilson told the BBC. "But I don't think that's a reason to not do it – or a reason to put it out there."
According to International Business Times, the cost of manufacturing a single Liberator handgun is around $1,000 in all. Aside from a single nail and bullets, the cost of making the weapon ends with the purchase of a 3D printer and whatever polymer is used to fabricate the firearm. Consumer models, including the UP! Mini 3D Printer and the RapidBot3.0 are available on some online retailers for under $1,000.
Yee is looking to advance efforts in California that will impose restrictions on 3D-printed products, but a federal ban could be in the works as well. United States Congressman Steve Israel (D-New York) has gone on the record to say, "Security checkpoints, background checks and gun regulations will do little good if criminals can print plastic firearms at home," and US Senator Charles Schumer (D-New York) has equated news of the guns as "stomach churning."
"Now anyone – a terrorist, someone who is mentally ill, a spousal abuser, a felon – can essentially open a gun factory in their garage. It must be stopped," he said according to the Sydney Morning Herald.
Staples, a leading US-based retailer of office supplies, started carrying 3D printers in some of their brick-and-mortar stores this week.
You can share this story on social media: