AK-47 maker Kalashnikov to double production in three years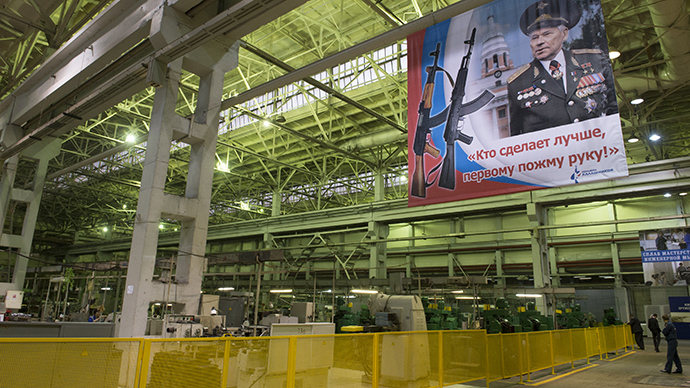 The producers of the world-famous AK-47 assault rifle, the Kalashnikov Concern, have announced plans to double its output to 300,000 units in the next three years, despite being on the US sanctions list.
READ MORE: Kalashnikov boosts output by 40% amid US sanctions
Kalashnikov plans to produce 150,000 units of arms in 2014, with the output rising to 300,000 in the next three years, Kalashnikov CEO Aleksey Krivoruchko told the company's corporate magazine.

According to Krivoruchko, the concern's mid-term goal is to perform a complex technical and technological re-equipment maneuver, which would include the purchase of new hardware, reconstruction of facilities and the organization of high-performance workplaces.

Over the period of January to March 2014, the Russian company already doubled its output in comparison with the same period last year, producing 31,000 units of basic arms.

"We have also set the task of designing and manufacturing such weapon models that would combine modern technological and design solutions – like, for example, advanced ergonomics, design modularity, use of wear-resistant coatings, which withstand any influences, including heat, constant friction and moisture," the Kalashnikov CEO said.

Earlier, Aleksandr Soloviev, acting head of the republic of Udmurtia, where Kalashnikov is located, said that the concern increased its production by about 39-42 percent since the beginning of the year.

The growth would have been even more significant in 2014 if not for the arms embargo imposed by the US on Russia over the events in Ukraine.
READ MORE: Kalashnikov 'feels sorry' for sanctions-struck American customers
In July, Washington sanctioned several Russian companies, including Kalashnikov and air defense systems' producer Almaz-Antey, banning them from taking mid- and long-term loans in the US and having any contracts with American firms.

Following the announcement of the sanctions, Russian-made firearms have reportedly been flying off the shelves of American gun stores. Saiga rifles and shotguns, based on the reliable Kalashnikov design, had already gained popularity among gun enthusiasts in the US and even the country's law enforcement agencies.
READ MORE: Sanctions against Russia spark AK-47 buying frenzy in US
The Kalashnikov Concern is Russia's largest producer of military automatic and sniper weapons and guided artillery shells, as well as a wide range of civil products – hunting and sporting rifles, machinery and tools.

The group currently sells its products to nearly 30 countries around the globe, including the UK, Germany, Norway, Italy, Canada, Kazakhstan and Thailand.