Kalashnikov boosts output by 40% amid US sanctions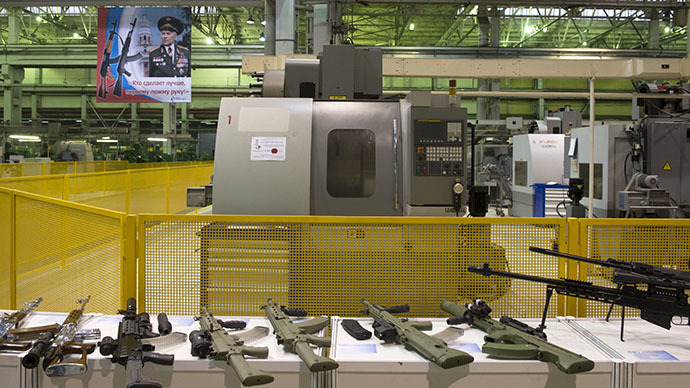 Despite US sanctions imposed against Russia's Kalashnikov Concern, known largely around the world for its AK-47 assault rifle, the company has increased production by 40 percent this year.
"If we compare to 2013, they have about 39-42 percent more in volume output. And if the US did not impose an embargo, the growth this year would have already been very significant," the acting head of Russia's Udmurtia Republic, Aleksandr Solovyov, said at a press conference on Tuesday.
Solovyov added that Kalashnikov Concern has been successfully updating the plant's equipment and hardware this year. It is also expected to finish the integration of enterprises, increase productivity, and optimize costs.
Return on the investment could happen as soon as the next two years – but this would require increasing production to 150,000 weapons per year.
Kalashnikov Concern is also looking for new markets to expand to, following the introduction of US sanctions against Russian companies this summer. At the moment, the company has agreements to supply products to 27 countries.
READ MORE: Kalashnikov 'feels sorry' for sanctions-struck American customers
In July, the US ordered Americans to discontinue any deals with the Russian gun maker due to economic sanctions imposed on Russia by Washington.
The company is among the latest Russian-owned entities to be blacklisted by the US government.
The US remains the world's largest consumer of civilian arms, which is why most civilian guns sold by the Kalashnikov Group abroad have been sold in America.
Izhmash's Saiga rifles and shotguns, based on the reliable Kalashnikov design, became a hit among gun enthusiasts in the US. Kalashnikov's Saiga semiautomatic shotguns have also been gaining popularity among American law enforcement.
Following the announcement of the sanctions, Russian-made firearms have reportedly been flying off the shelves of American gun stores.

READ MORE: Sanctions against Russia spark AK-47 buying frenzy in US
Earlier, RWC Group LLC – the sole company that exports Kalashnikov Concern products to the US – said its deal with America has been frozen, but not broken.
Kalashnikov Concern has expressed its sympathies with its American customers, who will see the firm's popular firearms dry up on the US market.
"The present situation has once again proven our guns are highly popular among the Americans and the introduced sanctions go against their interests. Kalashnikov Concern regrets our customers are facing that kind of a problem," the manufacturer's press secretary, Ekaterina Boni, told Itar-Tass news agency.