ISIS threatens to kill British jihadists who want to go home - report
Many British jihadists who travelled to Syria and Iraq and became embroiled with the Islamic State (IS) now want to return home but have been threatened with death by senior figures in IS, The Observer reported.
The newspaper has cited a source, who "has extensive contacts among Syrian rebel groups," as saying that dozens of British men in Syria and Iraq wanted to return home but were in effect being held against their will by Islamic State.
"There are Britons, who, upon wanting to leave have been threatened with death, either directly or indirectly," the source said.
Former Guantanamo Bay detainee Moazzam Begg told The Observer that he knew of at least 30 people who had gone over to fight Assad but had become involved with IS, many for language reasons, as IS has more English speakers in its ranks.
"When it becomes solidified as an Islamic State, a caliph, and you swear allegiance, thereafter if you do something disobedient you are now disobeying the caliph and could be subject to disciplinary measures which could include threats or death," said Begg.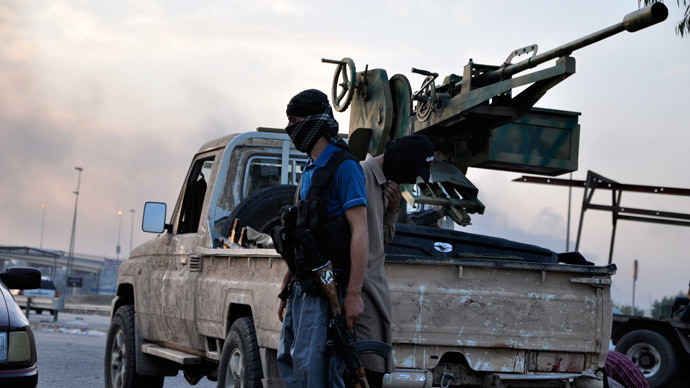 Begg has called on the UK government to introduce an amnesty for jihadists and to set up rehabilitation programs, like in Denmark, which help young men coming back to get their lives back on track without being prosecuted. Some members of the British government, have however, suggested that returning British jihadists should instead be tried for treason.
Begg, as well as spending years in Guantanamo, has also spent seven months in Belmarsh prison after being arrested for a trip he made to Syria in 2013. Begg was released earlier this month after it emerged secret intelligence material had been withheld from police, suggesting a strong possibility he has been in contact with MI5 about his Syria trips.
Begg is outreach director for Cage, an independent human rights organization which campaigns against the so-called War on Terror, and says a lot of Britons who went out to fight in Syria and Iraq are "between a rock and a hard place".
"Some of the guys I met in Belmarsh had gone to Syria to help in a humanitarian defensive role, stayed for a few weeks and, crucially, didn't want to get involved with the infighting between rebel groups yet the British government imprisoned them. If you come back because of the infighting it means you are not ideologically attached to groups like Isis," he said.
Brainwashed kids or committed fighters?
It was revealed Friday that a fourth young British Muslim from the south coast town of Portsmouth has been killed in Syria, from a group of six men who called themselves the "Pompey lads" who left the UK to fight for ISIS.
READ MORE: Dozens of British jihadists killed in Syria, more travel to join militants
It is believed that Mohammad Medhi Hassan, 19, was killed in fighting to try and capture the border town of Kobani, which Kurdish fighters have refused to surrender.
Last Tuesday it was confirmed that another of the "Pompey lads", 24 year old Manunur Roshid, had also been killed on the Syrian front line, most probably in Kobani. Of the six men who left Portsmouth to fight jihad in Syria, four are dead and one is prison.
Recently Hassan had phoned his mother and had tried to escape across the border to meet up with her in Turkey, The Daily Mail reports. He got within just a few kilometers of the Turkish border town of Urfa when he was reportedly recaptured by ISIS fighters who imprisoned him and threatened him with death should he try it again.
READ MORE: British mother rescues wounded jihadi son from Turkish-Syrian border
Hassan was not a typical disgruntled and ostracized youth, he attended an expensive private school in Portsmouth and was due to study international politics at Surrey University, before travelling to Syria over a year ago.
An estimated 500 British Muslims have already gone to Syria and Iraq. Of them, 24 are already believed to have died, according to King's College London's International Centre for the Study of Radicalization (ICSR).
Earlier this week, Sir Bernard Hogan Howe, the Metropolitan Police Chief Commissioner warned that at least five Britons were joining ISIS every week.
READ MORE: 5 Brits join ISIS each month, 1 dies every 3 weeks
"Those are the minimum. Those are the ones we believe have gone. There may be many more who set out to travel to another country in a way that's not always possible to spot when you have failed states and leaky borders," he said, as quoted by the British media.
You can share this story on social media: