​British mother rescues wounded jihadi son from Turkish-Syrian border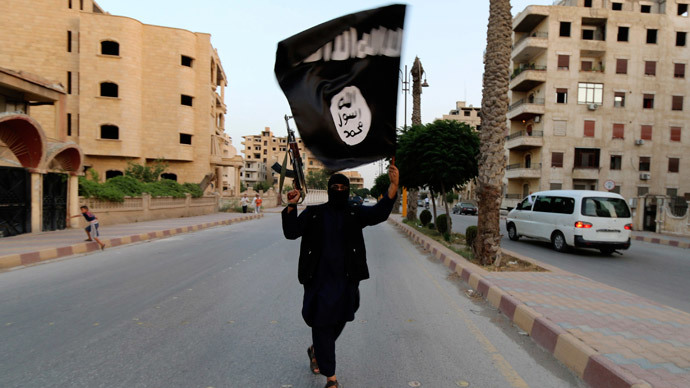 A British mother has traveled to one of the most dangerous areas on the Turkish-Syrian border to rescue her son, who was injured fighting for the Islamist militia Islamic State (IS formerly ISIS/ISIL).
The woman, 45, known only as "Linda" told the BBC 'Inside Out' program that her son 'James' had joined the Islamic State on the internet, and had been fighting with the group for around four months, but indicated he would return.
James, 21, a Christian who converted to Islam three years ago, was later wounded when caught up in crossfire near the Turkish border.
"He was traumatized, he was in quite a fragile state. He was by himself, he was scared. At that point I knew I was going to have to go to Turkey, because it gave him something to aim for, he knew that his mum was waiting for him," she told the BBC.
She claimed her son had initially gone to Syria after being influenced by extremists online, and a desire to do something about the "oppression" faced by the Syrian people.
"He felt quite upset about the oppression that's going on there and, in his naive mind, he thought he could go out there and help. So he just went. I was very shocked, I was terrified," she said.
"I only found out after he left because he knew I would have stopped him, I would have been against it."
Upon hearing that her son had been injured, she traveled to Turkey, where she stayed for three weeks, and tried to direct him through the border using her iPad.
She texted him the address of her hotel, but lost contact with her son soon after. James was finally reunited with his mother a few weeks later.
"I didn't know what was going on," Linda said. "And then he just suddenly turned up. I was so relieved. I did actually manage to get my son back. I allowed my son to come back and accepted him with love," she said.
Linda also said James was questioned by police and MI5. However, he has received no de-radicalization treatment from the government.
According to the most recent government estimates, around 600 British people have traveled to fight in Syria and Iraq, with a significant number joining the Islamic State upon their arrival.
Authorities also estimate at least 250 foreign fighters have returned to the UK, while a number find themselves stuck 'in limbo' in Turkey, fearing arrest at the UK border.
Last week, the British government said it was considering resurrecting medieval treason laws in order to charge and detain Brits returning from Syria. The Treason Act of 1351 was passed during the reign of King Edward III.
Of those returning from Syria, 16 people have been charged under the Terrorism Act. Among them, three have been convicted.
However, senior police officers have warned that the "volume, range and pace of counterterrorism activity" has resulted in several forces becoming "stretched."
You can share this story on social media: