Four men appear in London court over alleged ISIS-inspired terror plot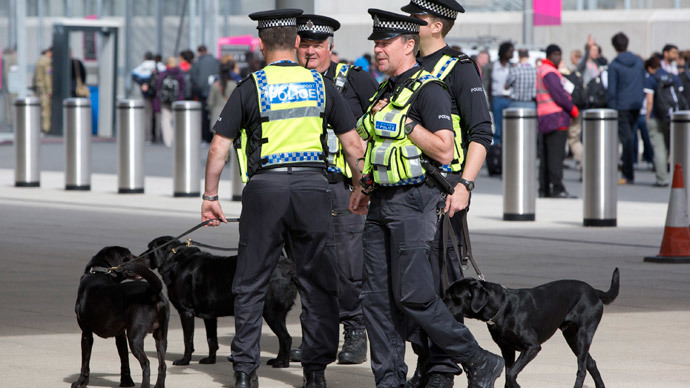 Four young men have appeared in a London court in connection with an alleged terror plot to shoot and kill police officers and soldiers in the capital. The defendants allegedly swore allegiance to Islamic State extremists.
The men, who appeared at Westminster Magistrates Court on Friday, were arrested in raids conducted by Scotland Yard's counter-terrorism command over the past two weeks.
The men allegedly used Google Street View to conduct reconnaissance on Shepherd's Bush police station and White City Territorial Army Barracks, the court heard. The men also had images of two Metropolitan police officers, the Press Association reported.
The men also possessed a gun with a silencer, ammunition, and a moped – which they were presumably going to use as a getaway vehicle.
Those being charged with terrorism offenses are medical student Tarik Hassane, 21, Nyall Mamlet, 24, Momen Motasim, 21, and Suhaib Majeed, 20. A fifth man, 25-year-old Nathan Cuffy, was only charged with firearm offenses. Police say he gave a converted Baikal handgun and six rounds of ammunition to Mamlet.
The four men have been charged with the intention of committing acts of terrorism between July 8 and October 7, 2014. Prosecutor Mark Dason told the court that the men cooked up the plot "albeit not fully formed, to shoot, to kill, police officers or soldiers on the streets of London," as quoted by the Guardian.
It was also claimed by the prosecution that the men "took an oath of allegiance to the group IS (Islamic State)," and implemented the "use of secure communications." They also demonstrated some degree of "tradecraft" by using code words for 'money,' 'mopeds,' and 'firearms.'
It was also alleged that they downloaded and circulated a fatwa from Abu Muhammad al-Adnani and "considered, discussed and decided to act on the fatwa," which allegedly called for strikes against the West.
READ MORE: UK confronts terror surge, resurrects medieval treason law to charge Brits
READ MORE: UK police thwart suspected Islamic State terror plot
The men were also accused of possessing extremist literature – including two copies of Inspire magazine, an Al-Qaeda publication –and an ISIS magazine called Dabiq, which contained images of the beheading of the American journalist Steven Sotloff.
District Judge Emma Arbuthnot has remanded all of them in custody to appear at the Old Bailey on October 27. None of the men made applications for bail.
Three other men were arrested for terrorism-related offenses but were freed due to insufficient evidence against them. A 19-year-old woman was released on bail until next week, pending further enquiries.
You can share this story on social media: