​Dozens of British jihadists killed in Syria, more travel to join militants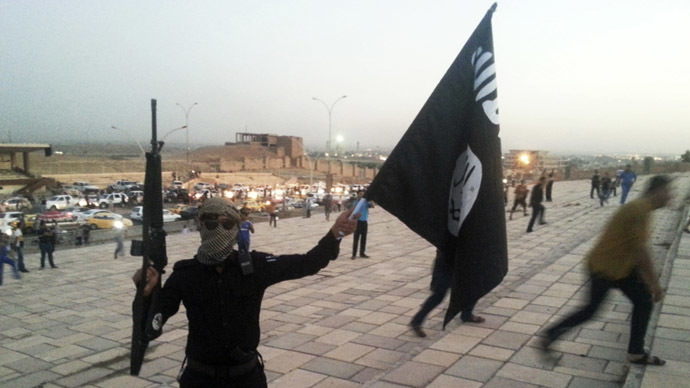 Up to 30 British jihadists are thought to have been killed while fighting in Iraq and Syria, with a large number joining Islamic State (IS/ISIS/ISIL) militants, new estimates suggest.
Researchers from the International Centre for the Study of Radicalisation (ICSR) based in King's College London, who monitor and communicate with foreign fighters operating in the region, said they were aware of at least 24 British deaths, but that the actual number is "almost certainly higher than that."
Among those who died include 19-year-old Ibrahim Kamara from Brighton, who was killed last month in a US airstrike alongside three other unnamed Britons.
Other UK nationals known to have been killed in fighting include 25-year-old Muhammad Hamidur Rahman, a former clothes store manager from Portsmouth who had joined the IS, and Abdullah Deghayes, 18, from Brighton, who was reportedly fighting with Al-Nusra Front, an affiliate of Al-Qaeda in Syria.
Houses searched over Abdullah Deghayes's syria death http://t.co/zxbyMJS87l#news#syriapic.twitter.com/Asxd2iwUkC

— Blue Marble Times (@BlueMarbleTimes) May 20, 2014
ICSR senior researcher Shiraz Maher told the Telegraph that news of growing fatalities would not discourage others from joining militia groups in Iraq and Syria because death is often regarded as "martyrdom and a victory."
"It is the ultimate prize for these jihadists and those around them celebrate their death," he added.
Reports of additional deaths came as the IS released a new video on social media on Wednesday, in which three Western fighters, reportedly based in Dabiq, Syria, called for Western governments to send ground troops to fight militants.
In the video, a British man of Eritrean origin who goes by the Kunya (Islamic name) of Abu Abdullah said they would "chop off the heads of whoever you may bring" and made direct references to the US and French military.
"Know this, that it is not just one American, it is not just one European that is here. Know that we are many and we are many in numbers and we will take your lives," he adds.
Other jihadists in the video, who are of French and German origin, also encouraged others living in the West to join the IS.
British teenager Ibrahim Kamara 'Killed In US Airstrikes In Syria' http://t.co/BYuth5SJOrpic.twitter.com/Qs1qLViD67

— David Jones (@_dpaj) September 25, 2014
According to government estimates, more than 500 Britons are believed to have traveled to Syria to fight. British ministers and police authorities warn they could pose a security threat to the UK if they return.
On Tuesday, anti-terror police arrested the parents and two brothers of a Briton killed in Syria. The raid was part of an operation investigating alleged networks that assist young men in traveling to Syria, as well as arranging for women to go to the region in order to become brides.
Earlier this month, anti-terror police arrested five men across West London, including 20-year-old Tarik Hassane. Police claimed the arrests were part of an "ongoing investigation into Islamist terrorism."
Prime Minister David Cameron has said supporters of the IS pose a "greater and deeper threat to our security than we've seen before." His statements followed a decision to raise the UK's terror threat level from "substantial" to "severe" in August over events in Iraq and Syria.
In late September, MPs voted to join US-led airstrikes against IS positions in Iraq. Critics say the move will increase the likelihood of terrorist attacks on UK cities.
You can share this story on social media: