Sister of British hostage Cantlie pleads for 'direct contact' with ISIS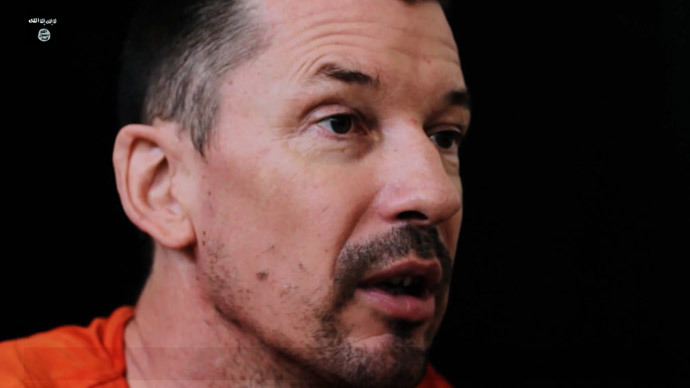 The sister of British hostage John Cantlie, a journalist who has been held by the Islamic State (IS/ISIS/ISIL) since November 2012, has made a direct appeal to the militant group to "re-open dialogue" with the family in a bid to secure his freedom.
In an effort to rescue her brother from likely beheading at the hands of militants, as was the case with four previous Western hostages, Jessica Cantlie urged ISIS to "reinitiate direct contact" with the family.
READ MORE: 4th IS video released as jihadist magazine publishes article 'written by British hostage John Cantlie'
"We strongly challenge those holding John to return to your previously-opened channel, to which we continue to send messages and await your response so that in keeping with everyone's wishes, we can restart dialogue," she said.
The captive journalist's sister expressed frustration that the open dialogue between her family and ISIS has been terminated for unknown reasons. She also mentioned former British aid workers who had been taken hostage and then consequently murdered.
"Sadly like the families of David Haines and Alan Henning, before they were killed, our efforts at re-opening dialogue continue to be ignored by those holding John.
"We implore IS to reinitiate direct contact."
In addition to the two British men, ISIS has also killed two US journalists, James Foley and Steven Sotloff.
4th #ISIS video released as jihadist magazine publishes article 'written by British hostage John Cantlie' http://t.co/HvpuDTaeVj

— RT (@RT_com) October 12, 2014
At one point in the video appeal, presented by the BBC, Jessica Cantlie said it was "simply not accurate" that nobody had made an effort to communicate with ISIS over the fate of her brother.
"This is frustrating for all parties, including those who are trying to assist us."
Recently, John Cantlie appeared in a series of videos broadcast by ISIS where he takes issue with the foreign policy trajectories of the US and Britain. It is not known how willful or coerced his comments are.
In one clip, he described Obama's speech on the 13th anniversary of the 9/11 attacks as "prideful chest banging."
"It was all disappointingly predictable; America is good, the Islamic State is bad; and they will be defeated using aircraft and a motley collection of fighters on the ground," Cantlie said.
READ MORE: ISIS hostage Henning believed he would be freed
Criticizing US-led airstrikes in Iraq, Cantlie said, "Air power is good at taking out specific targets, but it is not good at taking and holding ground. For that you need effective and disciplined troops and it's hard to see how this hodgepodge army with a long history of underperforming is going to be any form of credible infantry."
His sister mentioned the videos in her address, saying his words "are powerful and have huge resonance."