4th IS video released as jihadist magazine publishes article 'written by British hostage John Cantlie'
Published time: 12 Oct, 2014 21:34
Edited time: 3 Jul, 2015 11:15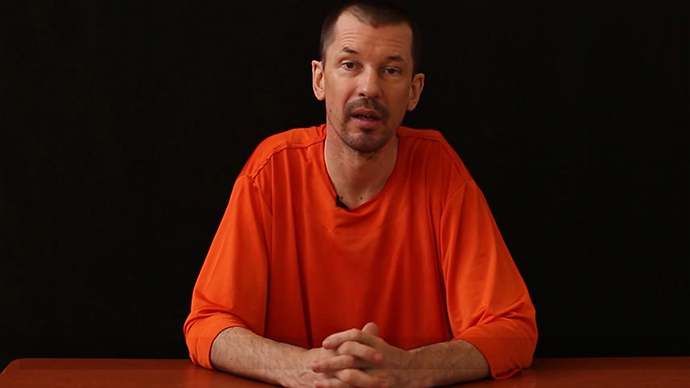 An Islamic State (IS) magazine has published an article it claims to have been written by British hostage John Cantlie entitled: 'The real story behind my videos'. The photojournalist has featured in four IS videos. The most recent was released Sunday.
His "article" was published in issue 4 of the IS magazine 'Dabiq' and, points fingers at the US and UK for not negotiating the possibilities of the release of previous IS victims.

"Four of my cellmates have already been executed by the Islamic State in the most visceral way possible after the British and American governments apparently made a joint decision not to discuss terms for our release with our captors," the piece says.

"And now, unless something changes very quickly and very radically, I await my turn" it adds. "I've had to watch as James (Foley), Steven Sotloff, David Haines and Alan Henning, walked out of the door, one every two weeks since August 18, never to return, knowing they were going to be killed and going to their deaths."

The piece claims that 43-year-old Cantlie has been sleeping in a "clean and comfortable" room on a mattress on the floor. He allegedly declares that for someone in his position "it is enough." It also alleges that the hostage has been writing his own scripts for the videos in which he has appeared over the past weeks.

The fourth video featuring Cantlie was released late Sunday, with him introducing himself webisode-style with "in this program, we'll touch on some of the inherent strengths of the Islamic State."

In it he stated that he has been "abandoned" by his government and that Islamic State fighters are 'dug in for the fight.' He cites their alleged strengths saying that "war only makes the jihadist movement stronger."
The 6 minute 53 second video was posted online by the IS's Al Furqan outlet and Cantlie appears wearing the all-too-familiar orange shirt of the previous hostages who have been beheaded on camera. He again appears hostile towards the UK's lack of help in remedying his situation.

"I have yet to see [UK Prime Minister] David Cameroun's reaction to the killing of David Haines, but I'm sure it will be along the lines of "Britain is shocked and appalled at this brutal act and we will not rest until IS is defeated and those guilty of his murder are brought to justice."

"You have known about our situation for nearly two years. You chose not to enter negotiations with the Islamic State that might have got us out," he adds.

Similarly, David Haines read a statement holding David Cameron directly responsible for his death prior to his execution, after which David Cameron did remarked: "We will do everything in our power to hunt down these murderers and ensure they face justice, however long it takes."

Cantlie has reportedly been subjected to torture including waterboarding, electric shocks, and being forced to stand up for three days at a time, according to an IS defector. In an interview with Belgian police, 19-year-old Jejoen Bontinck, also said that Cantlie was hit with blunt instruments and became delirious.

Torturers included one guard nicknamed "Pinocchio"(on account of habitual lying, Cantlie reportedly said) and another guard known as "Butcher".

Cantlie was captured by IS in 2012 and has since been shot during an escape attempt. Among the publications which Cantlie has worked and freelanced for is The Sunday Times. He is the last living British IS hostage following the execution of 47-year-old Alan Henning.