'Unforgivable': Cameron vows justice for slain hostage Alan Henning
Prime Minister David Cameron says members of the so-called Islamic State (IS) responsible for the murder of British hostage Alan Henning "will be hunted down and face justice." The PM's warning comes as militants threatened to murder a fifth hostage.
On Saturday Cameron met with security chiefs and the Foreign Office at his official country residence Chequers to discuss the murder of Henning, Downing Street said in a statement.
"The murder of Alan Henning is absolutely abhorrent. It is senseless, it is completely unforgivable," ITV cites him as saying.
I'm meeting security chiefs this morning to discuss the barbaric murder of Alan Henning. His killers will be hunted down and face justice.

— David Cameron (@David_Cameron) October 4, 2014
"Anyone in any doubt about this organization can now see how truly repulsive it is and barbaric it is."
READ MORE: ISIS beheads British hostage Henning – report
He added that the UK and its allies must "do everything we can to defeat this organization," referring to the IS, formerly known as ISIS or ISIL.
PM: 'Brutal murder of Alan Henning by ISIL shows just how barbaric these terrorists are. My thoughts are with his wife and their children.'

— UK Prime Minister (@Number10gov) October 3, 2014
Henning, a British volunteer who had joined an aid convoy to help civilians afflicted by the civil war in Syria, was taken hostage on December 26, 2013. His murder came three weeks after he was last shown on camera, in footage depicting the beheading of British citizen David Haines.
The Muslims of the North of England released a statement on Saturday calling Henning a "local and national hero," Sky News reports.
They said the beheading of Henning was carried out on the eve of the 'great day of mercy' (Eid Al-Adha) in the Islamic calendar, an action which clearly differentiates the terrorists from normal Muslims.
"The killing of Alan Henning was a cowardly and criminal act of appalling brutality by a group who do not represent Islam at all and in fact are an insult to the Islamic faith," the group said in a statement.
"The killing of Alan Henning marks the beginning of the end of this group. We now call for justice to be carried out on the killers of Alan Henning."
On Friday, The United Nations Security Council also issued a statement condemning "the heinous and cowardly murder" of Henning.
"This crime is a tragic reminder of the increasing dangers volunteer humanitarian personnel face every day in Syria. It also once again demonstrates the brutality of ISIL, which is responsible for thousands of abuses against the Syrian and Iraqi people," the statement read.
In the latest video, an IS militant similarly murders Henning before threatening to also kill American Peter Edward Kassig.
Henning can be seen on his knees in a desert with his alleged executioner, a British citizen who has become known as Jihadi John, wielding a knife.
"Hi, I'm Alan Henning. Because of our Parliament's decision to attack the Islamic State, I as a member of the British public will now pay the price for that decision," he says.
The militant goes on to say that "the blood of David Haines" was on Cameron's hands.
"Alan Henning will also be slaughtered, but his blood is on the hands of the British Parliament," he says.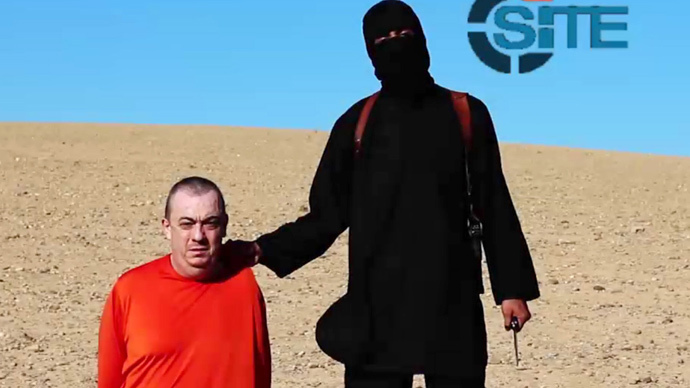 The video concludes with the militant holding Kassig by the back of his orange jumpsuit.
"Obama, you have started your aerial bombard in Shams [Syria], which keep on striking our people. So it's only right that we continue to strike the next of your people," the masked militant said, concluded.
On September 26, the British Parliament voted overwhelming to authorize airstrikes against IS targets in Iraq.
Last Saturday, British Royal Air Force (RAF) jets were deployed on their first mission in Iraq, with the first airstrike coming several days later.
On Friday, Cameron announced the deployment of two additional Tornado jets as part of the operation "to tackle the ISIL threat in Iraq," the Ministry of Defence said in a statement.
Meanwhile, White House officials and family members have confirmed the identity of Kassig, a former Army Ranger who was kidnapped in Lebanon on October 1 last year. Kassig founded his own aid organization, SERA (Special Emergency Response and Assistance), a non-governmental group intended to provide relief to Syrian refugees.
National Security Council spokeswoman Caitlin Hayden said the United States "will continue to use every tool at our disposal — military, diplomatic, law enforcement and intelligence — to try to bring Peter home to his family."