Fresh UK airstrikes launched against ISIS in Iraq, confirm MoD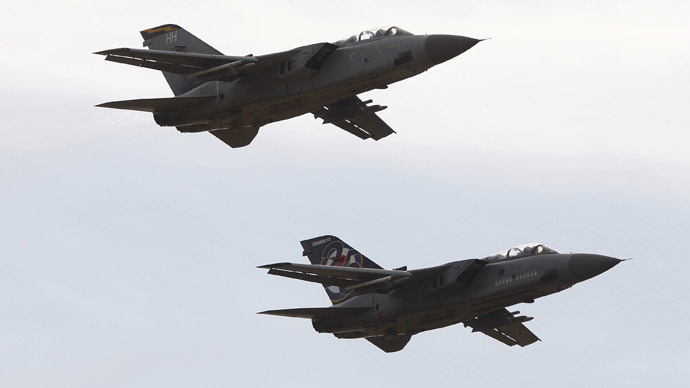 UK Tornado jets patrolling over north-western Iraq conducted a 'successful precision strike' against Islamic State militants overnight on Wednesday, the Ministry of Defence (MoD) reports. RAF jets are providing Kurdish fighters with air support.
MoD officials say the Royal Air Force (RAF) tornados were on a mission to assist Kurdish ground forces engaged in combat with jihadists in the region. As IS fighters opened fire on Kurdish troops, UK special forces launched Paveway IV guided bombs at IS positions, the MOD said in a formal statement.
Earlier on Wednesday, two RAF tornado jets attacked an armed pick-up truck escort and transport vehicle. Prior to this, two GR-4 Tornado warplanes targeted a "heavy weapon position" on Tuesday. These were the UK's first strikes on IS targets since parliament approved military action last Friday.
The Tornados from the RAF airbase in Akrotiri, Cyprus, conducted an armed reconnaissance mission in support of Iraqi government forces west of Baghdad. It called the strikes "successful."
2 Tornados from #RAF Akrotiri fire 4 Brimstone missiles against armed pick-up truck escort & #ISIL transport vehicle

— Ministry of Defence (@DefenceHQ) October 1, 2014
"They were tasked to examine a location suspected of being used as an ISIL [IS] command and control position," the MoD said in a statement. "At the scene they were able to identify ISIL activity and two vehicles, one of which was an armed pick-up truck."
Politicians and high-ranking military personnel have raised concerns that airstrikes alone will not be enough to defeat IS fighters on the ground.
The attacks came after the UK's Foreign Secretary Philip Hammond said Britain would not be "panicked" into dropping bombs.
Before Tuesday's attacks, the RAF completed five missions without dropping any bombs on IS targets. The MoD said RAF Tornados were looking for suitable IS targets and gathered intelligence of the area.
"When we do release our weapons we have to be absolutely sure that they are against ISIL targets, that they are not going to kill innocent Sunni Muslim civilians in areas that are occupied by ISIL," Hammond told the BBC's Daily Politics on Tuesday.
IS militants have seized large swathes of land in Iraq and Syria and proclaimed a "caliphate."
Since August, the extremist group has released three gruesome videos showing beheadings of some of its hostages – US journalists James Foley and Steven Sotloff, and British aid worker David Haines.
The group also threated to behead a second British hostage, aid worker Alan Henning. On Tuesday, Henning's wife recorded an emotional appeal to IS militants, urging the group to release her husband.
Barbara Henning said she hoped his captors would "open their hearts and minds to the truth about Alan's humanitarian motives."
"Muslims across the globe continue to question [the] Islamic State over Alan's fate. Their position regarding his statement is unequivocal. He is innocent. We ask Islamic State: please release him. We want him back home," she said.
"Surely those who wish to be seen as a state will act in a statesmanlike way by showing mercy and providing clemency."
You can share this story on social media: