RAF jets fly armed missions over Iraq – but bomb no ISIS targets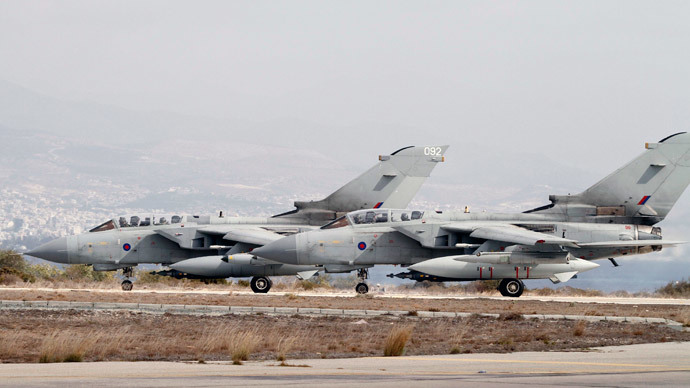 RAF Tornado jets have completed their fourth mission to northern Iraq without dropping any bombs and are still searching for suitable Islamic State targets. An ex-armed services chief says Islamic State can't be defeated by airstrikes alone.
The Ministry of Defence in London confirmed that the missions carried out by Tornado GR-4 fighter bombers since they were given the green light to launch air strikes on IS targets in Iraq on Friday had ended with them returning to their airbase in Cyprus with their weapons still on board.
They explained that the Tornados had not hit ground targets because "no targets were identified as requiring immediate air attack by our aircraft."
The RAF fighter jets are said to continue to fly armed reconnaissance missions over northern Iraq – in search of appropriate targets and to gather intelligence from the area.
In comparison, US and Arab jets have conducted at least seven airstrikes in Syria and three in northern Iraq, near the Kurdish capital, Erbil, against IS (also known as ISIS, or ISIL) as of this weekend.
The Pentagon said US airstrikes destroyed two IS checkpoints, a transport vehicle and an IS safe house in Iraq. US warplanes have also hit a command centre and oil production and refining sites in Syria that generate millions of dollars for the militants. Saudi Arabia and the United Arab Emirates assisted with attacks in Syria over the weekend.
Michael Fallon, the UK Defence Secretary, warned this weekend that the RAF's mission – codenamed Operation Shader – could last years. "This is not a weekend campaign. We will see how it goes, but in the end [IS] have to be defeated in Syria," he told the BBC. "This is going to take a long time."
Fallon also said that 60 Britons returning to the UK from Syria and Iraq had been arrested on suspicion of fighting for IS.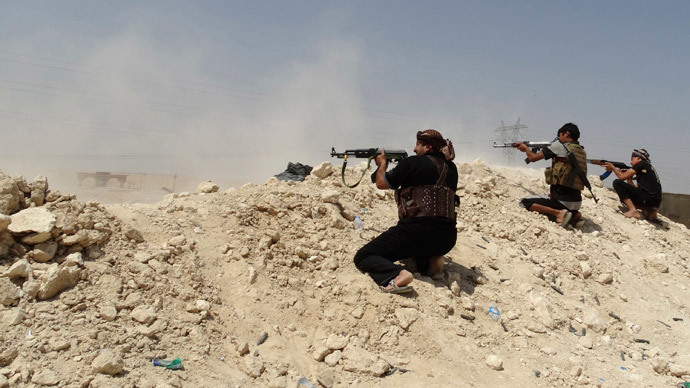 Meanwhile, servicemen and women at the RAF base in Akrotiri, Cyprus, said they want to prevent other hostages facing the same fate as their former colleague David Haines, who worked as an RAF engineer for 12 years.
David Haines, 44, was beheaded in a video released by IS last month. IS's second British hostage, Alan Henning, appeared at the end of the video and was threatened with execution.
An RAF source at Akrotiri told the Telegraph: "One of their [IS] victims was a former RAF serviceman, and it definitely feels a bit personal for all of us here. It's not about revenge but perhaps some sort of justice – and certainly the hope that we can stop more people suffering the way David and other captives have."
The fact that the RAF found no IS targets shows how much high-quality ground forces are needed, a former head of the UK armed services argued.
Lord Richards, who retired last year as chief of the general staff, told The Sunday Times that IS cannot be defeated by airstrikes alone and "boots on the ground" are needed.
"You can't possibly defeat ISIS by only attacking them in Iraq," Lord Richards said. "How the hell can you win the war when most of your enemy can end up in a country you can't get involved in?"
"ISIS is not a terrorist organisation," he added. "It might commit acts of terror but it has tanks, artillery, huge wealth, courts, justice of its own kind, and is administering large areas, so the idea that this can be seen as a counterterrorism campaign is a key error."
Richards also warned that the US-led war against IS could "go on forever" unless a 100,000-strong army, consisting of Iraqi troops, Kurdish peshmerga militia and moderate Syrian rebels, was trained and deployed. He argues this army would have to be supported by British, US and other western advisers.
Prime Minister David Cameron, however, told the BBC: "What we are not having is some British invading army of combat troops on the ground." Last week, MPs agreed to join a US-led airstrike campaign against IS – but only in Iraq. Cameron has said another parliamentary vote would be needed to attack IS targets in Syria.
You can share this story on social media: