ISIS hostage Henning believed he would be freed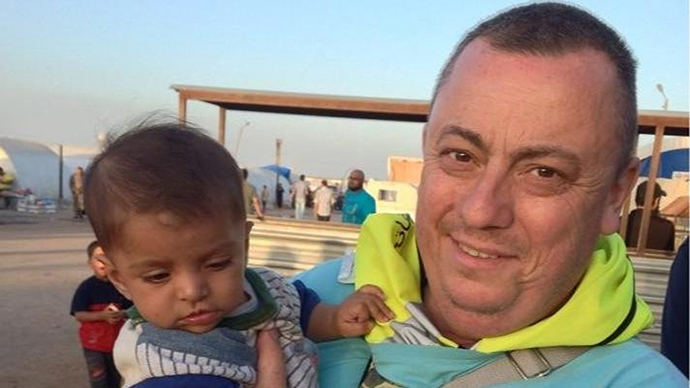 Alan Henning, the British hostage beheaded in a video by the Islamic State (IS/ISIS/ISIL) released on Friday, believed he was going to be freed when he was first captured, a fellow hostage said.
Seif al-Idlibi, who was held with Henning at a detention center in Syria, told the Telegraph the British aid worker had laughed and joked with his fellow detainees and "was not afraid."
"He was very relaxed. He didn't understand who his captors were and he was convinced he would be released soon," the opposition activist said. "He was not afraid – he thought it was just a regular security check and that he would be released soon."
However, the IS released a video on Friday showing Henning's gruesome beheading by a man with a British accent, nicknamed 'Jihadi John' in the UK media, before threatening to also kill an American hostage, Peter Edward Kassig.
Al-Idlibi, who shared a prison cell with Henning, is the first person to reveal details of ISIS' treatment of the 47-year-old taxi driver from Salford. He said the detention center where he and Henning were held overnight was a government building in al-Dana in northwestern Syria, of which the IS seized control in November 2012.
Henning seemed to be an important hostage of high value for the IS, al-Idlibi explained.
"Before Alan arrived, we only saw our guard once a day when he came to give us sandwiches and a drink or water. When he entered, we realized the prison was suddenly heavily-guarded. Even Idlib's emir came."
Henning was interrogated three times overnight by a masked British jihadist and the IS-appointed emir of Idlib, Abu Dujana Al-Tunsi, he said.
The father-of-two from Greater Manchester was kidnapped in December 2013 when he traveled to Syria as part of a Muslim aid convoy to help victims of the civil war.
He joked with other prisoners about his snoring and the prison food, and showed them his tattoo that read 'For Syria'.
But the morning after his interrogation, a guard came to Henning him and told him to bring his belongings. Henning thought he was being released.
"He was crying with empathy as he said goodbye – he thought he was being freed and leaving us behind. We don't know where they took him," al-Idlibi told the paper.
IS fighters took Henning to another prison and where he remained unseen until the release of an video showing the beheading of fellow British hostage David Haines.
Muslims around the world condemned the kidnapping of Henning and a sharia court ruled the aid worker was not a spy. Despite international pressure from Muslim communities, the IS decided to post a video of the killing of its fourth western hostage last week.
"When he arrived with us, ISIL treated him so well," said al-Idlibi. "We could not imagine they would slaughter him."
I'm meeting security chiefs this morning to discuss the barbaric murder of Alan Henning. His killers will be hunted down and face justice.

— David Cameron (@David_Cameron) October 4, 2014
British Prime Minister David Cameron said the IS members responsible for Henning's murder "will be hunted down and face justice." He said the "brutal murder of Alan Henning by ISIL shows just how barbaric these terrorists are."