'Shame on you, Turkey!' Massive protest in London demands protection for Kobani Kurds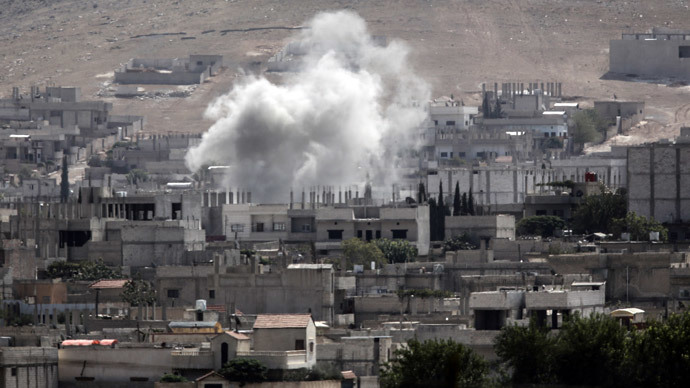 Protesters have returned to the streets of London as they rally in solidarity with Syrian Kurds in Kobani, the town Islamic State militants threaten to seize next. Earlier on Monday activists occupied one of the busiest Tube stations.
Hundreds of people march though London carrying banners which read: "Turkey stop supporting ISIS" and "Support Kurds resisting ISIS harassment in Kobani".
Other banners call to "unite against ISIS".
London protest thousands gatherd for #kobane against #isispic.twitter.com/ohjsDuX4vZhttp://t.co/VL1t5t2xgE

— Tim Hogan (@TimInHonolulu) October 7, 2014
According to reports on Twitter, protesters are chanting "Shame on you, Turkish state!" as they blame Ankara for slack effort to drive back the Islamic State militants as they are advancing to Kobani.
A pic from a sit-in at the London #Kobane demo - and the road block behind it pic.twitter.com/mxwobaFgLe

— Kerem Brûlée (@KeremBrulee) October 7, 2014
.
protest for Kobani in london pic.twitter.com/jzvIUPDafs

— sinan arslan (@HakiDersim) October 7, 2014
A Twitter user @Feisal Bani says there are between 4,000 and 5,000 people marching to the Kurdish community Centre in Haringey, north London. This information, however, cannot be immediately verified.
BREAKING: in London KURDS are protesting ISIS #Kurds#kobane@BBCNews@VOA_Kurdish@NYDailyNews@CFR_org#Rojava#ISpic.twitter.com/eAkjTZMq70

— ShenGal ROJAVA (@Xunavmerdin) October 7, 2014
.
.
Kurds in London are now walking towards Stamford Hill protesting for Kobane #TwitterKurdspic.twitter.com/PLkNFs7o4k

— Ez kevokim lê lê (@leylatrf) October 7, 2014
Earlier on Monday Kurdish activists in London occupied the capital's busiest Oxford Circus Tube station. Chanting "Unite, Unite, Unite against ISIS!" they blocked ticket barriers and the main entry points.
Protesters also used visual demonstrations to highlight the situation in Kobani, with some dressing in orange jumpsuits to represent the threat of more hostage killings if there is no intervention.
London's Kurdish community has been staging mass protests since the end of September. Last week, they organized a hunger strike outside Downing Street to protest the UK's lack of support.
READ MORE: UK Kurds begin hunger strike, demand heavy weapons for ISIS fight
You can share this story on social media: