'Vicious' British extremists in ISIS threaten national security – expert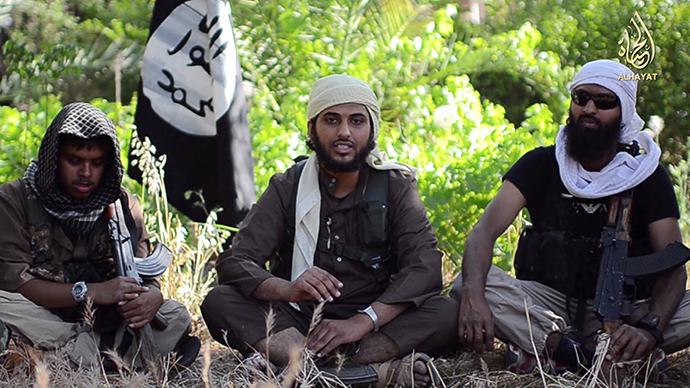 British extremists are among the "most vicious and vociferous fighters" in the Islamic State ranks, a jihadism expert says. This comes as a brutal video emerged in which an IS fighter with a British accent beheads a US journalist.
Shiraz Maher, a senior research fellow at the International Centre for the Study of Radicalisation (ICSR) at King's College London, said in an interview on BBC Radio 4's Today program that British fighters had been operating as suicide bombers and executioners.
"Foreign fighters going out to Syria are not going out there to be backseat riders. They are going out to be full participants in the war, to be at the forefront of the conflict," he said.
Maher said he and his colleagues are going through databases of fighters in Syria, trying to identify the executioner, who he believes is British.
UK Prime Minister David Cameron canceled his vacation and returned to Downing Street on Wednesday in light of the video and reports that the IS (formerly ISIS/ISIL) fighter in the video could be a British national.
"He will meet with the foreign secretary and senior officials from the Home Office, Foreign Office and the agencies to discuss the situation in Iraq and Syria and the threat posed by ISIL terrorists," a spokesperson said.
If true, the murder of James Foley is shocking and depraved. I will today chair meetings on the situation in Iraq/Syria.

— David Cameron (@David_Cameron) August 20, 2014
Over the weekend, the PM wrote in the Sunday Times that if the UK did not act to "stem the onslaught of this exceptionally dangerous terrorist movement, it will only grow stronger until it can target us on the streets of Britain." He added that, "We already know that it has the murderous intent."
Around 400 Britons are believed to have gone to Syria over the last two years.
British nationals have been involved in beheadings in the past.
Last week, British rapper Abdel-Majed Abdel Bary, 23, reportedly uploaded an image of himself holding a severed head on Twitter with the caption: "Chillin' with my homie or what's left of him." Bary left his London home to join the IS in Syria last year. His Twitter account has now been suspended.
In 2013, Michael Adebolajo and Michael Adebowale murdered Fusilier Lee Rigby in Woolwich, London, reportedly attempting to behead him after running him down with a car. During his trial, Adebolajo said the pair carried out the killing in revenge for the treatment of Muslims abroad.
In 2002, British-born Omar Saeed Sheikh was convicted of killing the American journalist Daniel Pearl, whose beheading was also filmed. Pearl was beheaded on video after being kidnapped by Al-Qaeda militants in Pakistan. Though he initially confessed, Sheikh is appealing his conviction after Khalid Sheikh Mohammed, who is currently detained in Guantanamo Bay, reportedly confessed to the murder.
In June, Nasser Muthana and Reyaad Khan, both 20 and from Cardiff, and Aberdeen-raised Abdul Raqib Amin, 25, were seen in an online recruitment video urging Western Muslims to join the fighting with the IS group, formerly known as the Islamic State in Iraq and Greater Syria.
Shortly after, Nasser Muthana posted a picture of 15 homemade bombs inside metal containers online with the message, "So the UK is afraid I come back with the skills I've gained."
And it's not just men who join Islamist militants. Twin sisters Salma and Zahra Halane, 16, from Manchester are thought to have traveled to Syria in June, possibly to join an older brother who had become a fighter there.
UK Foreign Secretary Philip Hammond has acknowledged that a Briton seems to be responsible for the "completely horrifying" apparent beheading of an American journalist in a video released by IS militants on Tuesday.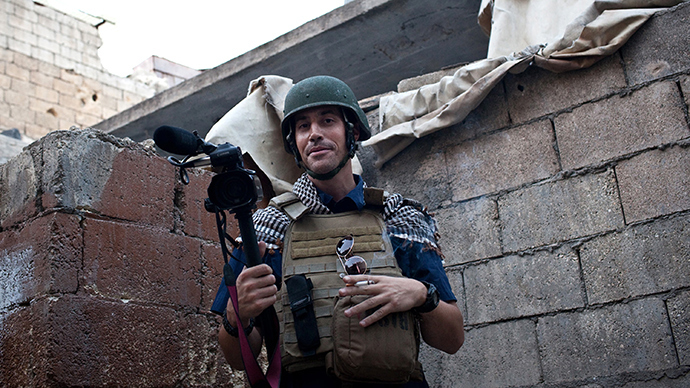 The man shown being murdered is understood to be James Foley, a freelance journalist who went missing in Syria in 2012.
In the video, the IS fighter is seen brandishing a knife while accusing the US of "aggression towards the Islamic State."
At the end of the video, the militant threatens to kill another man, believed to be US journalist Steven Sotloff. In the video, standing next to the presumed hostage, the jihadist with a British accent says: "The life of this American citizen, Obama, depends on your next decision."
Sotloff, a freelance journalist, went missing in August 2013 near Aleppo, Syria.
Hammond confirmed that "significant numbers" of British nationals had been involved in "terrible crimes" and "probably in the commission of atrocities."
The foreign secretary called British nationals who are part of these militant organizations a direct threat to national security, as they could return home eventually.
"Equally if [IS] gets pushed back, some of these people will return to their countries of origin, not just the UK, all European countries, Australia, the US, other Arab countries. We will see these people going back and potentially carrying on their fight in their own homelands."
Hammond added that intelligence agencies were tracking and monitoring Britons traveling to Syria and Iraq who could be involved with extremist groups. Upon returning to the UK, nationals can be prosecuted for crimes committed abroad, he pointed out.
Twitter CEO Dick Costolo announced in a tweet on Wednesday morning that any users who shared graphic images relating to the alleged beheading of Foley would have their account suspended.
We have been and are actively suspending accounts as we discover them related to this graphic imagery. Thank you https://t.co/jaYQBKVbBF

— dick costolo (@dickc) August 20, 2014
Sharing the audio of the beheading video, in which the alleged British jihadist can be heard, the Daily Mirror asks: "Do you know the British Jihadist who executed James Foley? As voice expert says he's a Londoner."
Speaking on LBC radio, linguistic expert Dr Claire Hardaker said, "I think we are definitely looking at a British accent from the south - and probably from London."
If it is confirmed that the executioner is indeed a British national he will be seen as the most extreme example yet of a fighter traveling from the UK to take part in the IS's campaign of brutal violence.