UK won't deploy 'boots on the ground' in Iraq, vows tougher action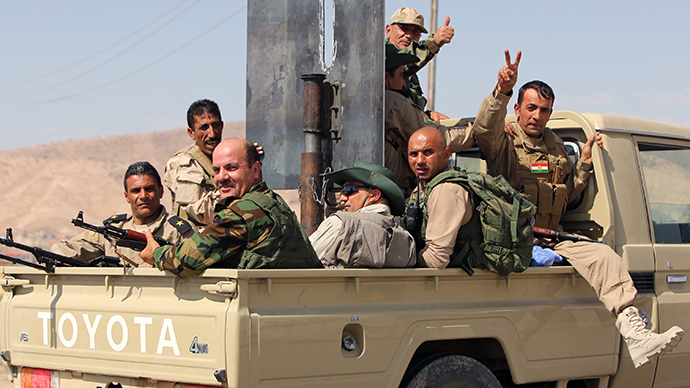 David Cameron said the UK won't deploy "boots on the ground" in Iraq, but could arm Kurdish fighters in its efforts to aid the fight against IS jihadists. Meanwhile, the Defence Secretary said British involvement in Iraq could last for months.
"We are not going to be putting boots on the ground, we're not going to be sending ine British Army," Cameron said.
Speaking on BBC Breakfast on Monday, Cameron reiterated that British troops would not be sent to Iraq to combat the threat of Islamist extremists.
"Britain is not going to get involved in another war in Iraq," the prime minister said. He added that Kurdish forces were the "first line of defence" against Islamic State fighters.
However, while ruling out ground troops, he promised tougher action.
Cameron, writing in the Sunday Telegraph, said a "humanitarian response is not enough" and a "firm security response" was needed. "I agree that we should avoid sending armies to fight or occupy. But we need to recognize that the brighter future we long for requires a long-term plan for our security," he said.
Cameron said the threat of the Islamic State group, formerly known as ISIS or ISIL, could not be extinguished by airstrikes alone. "We need a tough, intelligent and patient long-term approach that can defeat the terrorist threat at source," he wrote.
"First, we need a firm security response, whether that is military action to go after the terrorists, international cooperation on intelligence and counter-terrorism or uncompromising action against terrorists at home." At an EU meeting on Iraq on Friday, it was agreed that the UK, along with other European nations, will provide equipment directly to the Kurdish forces. The UK is considering sending a range of wares, from body armor to specialist counter-explosive equipment.
The Prime Minister also hinted that he is prepared to ally with Iran to combat the Sunni Islamist extremists of IS in Iraq and Syria, who want to create "a terrorist state" that could extend to "the shores of the Mediterranean."
Cameron called on Iranian President Hassan Rouhani to "engage with the international community against this shared threat."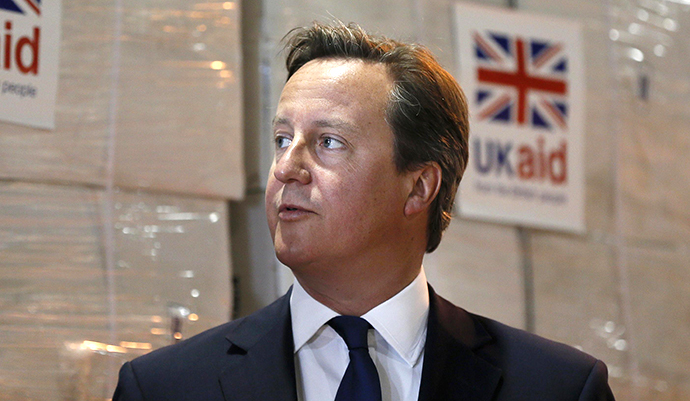 According to Cameron, a United Nations Security Council resolution was also aimed at disrupting the flows of finance to IS and to sanction those who are seeking to recruit for the militant group.
On Saturday, two Airbus flights landed in Erbil in the Kurdish autonomous region, carrying UK aid supplies that will be distributed by UN agencies to people cut off from their homes in camps across the Dahuk region of northern Iraq. There are approximately half a million displaced people in Dahuk – 200,000 since the beginning of August. The refugees have travelled for days without food and water in temperatures of 50 degrees Celsius.
The RAF made seven aid air drops, including water containers, solar lamps and shelter kits, over Mount Sinjar, where thousands of Yazidis were trapped after fleeing from the Islamic State advance. Britain has given £13 million to support the aid effort.
The "creation of an extremist caliphate" in Iraq and extending into Syria is not "a problem miles away from home," Cameron said, commenting on the threat to domestic security. That's why Britain has to act to halt IS's advance, otherwise the terrorist movement "will only grow stronger until it can target us on the streets of Britain."
UK's military involvement may last for months
Cameron's comments came as UK Defence Secretary Michael Fallon said Britain's involvement in military missions in Iraq may last for months.
Speaking during a visit to RAF Akrotiri in Cyprus at the weekend, Fallon said that the RAF had deployed the Rivet Joint surveillance aircraft alongside Tornado bombers to provide intelligence on the movements of Isis. UK humanitarian aid air drops and surveillance flights have been run out of Akrotiri.
"We want to help the new government of Iraq and Kurdish forces," he said. "We want to help them stop the advance [of IS] and stop them from being terrorized. This is not simply a humanitarian mission. We and other countries in Europe are determined to do what we can to help the government of Iraq combat this new and very extreme form of terrorism."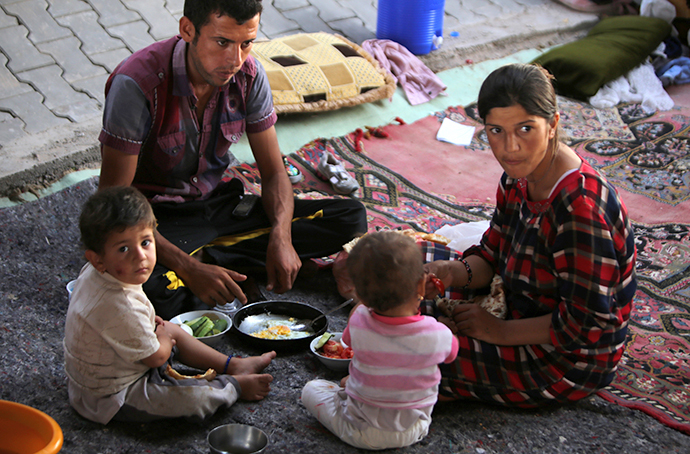 In his article on Sunday, Cameron said he believes that the UK will be fighting the threat and spread of IS until the end of his "political lifetime." He wrote, "Already it controls not just thousands of minds, but thousands of square miles of territory, sweeping aside much of the boundary between Iraq and Syria to carve out its so-called caliphate."
The UK government has repeatedly stressed its support for the new Iraqi Prime Minister-designate Haider al-Abadi and expressed hope he would quickly form an inclusive government that unites all Iraqi communities – Sunnis, Shias and Kurds.
The conflict has turned into a humanitarian crisis, with thousands of ethnic and religious minorities members, including Christians, Yazidis and Kurds, fleeing from the advance of IS militants. Many cross over the border into Syria, where they end up in quickly growing refugee camps, such as Newroz in northeastern Syria.
Shadow Foreign Secretary Douglas Alexander criticized Cameron's government, however, saying that the UK's failure to follow France and Germany in offering asylum to these Iraqi Christians who face persecution will "no doubt raise grave concerns."
Only one in five Britons believe the UK Government should try to defeat the Islamic State, according to a ComRes/ITV News poll that was released on Monday.
Some 30 percent of the 2,042 British adults asked think the UK should not get involved in the conflict. The poll also found that only 24 percent think Iraqi Christians who are being persecuted by IS militants should be offered asylum by the UK government.
You can share this story on social media: