British forces sent to Iraq, but Mt. Sinjar evacuation mission 'unlikely'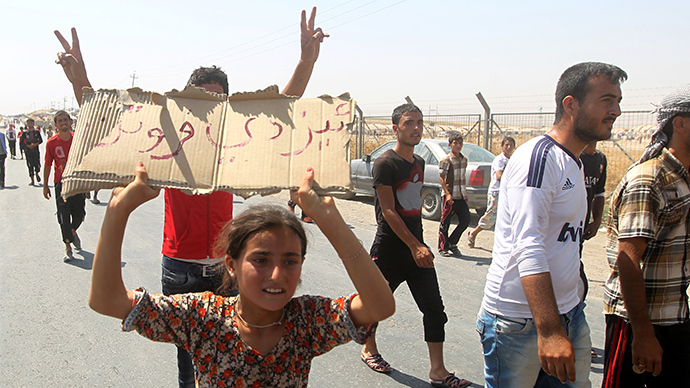 British SAS soldiers have been deployed to northern Iraq to "gather intelligence" ahead of any potential rescue operation, led by the US, to airlift thousands of Yazidi refugees from Mount Sinjar.
The elite SAS unit is said to be in the Sinjar mountains "scoping the ground" in case world leaders decide to embark on a major international rescue operation. This evacuation mission, however, seems to be on hold for the time being.
The US is now stepping back from an evacuation mission after US Special Forces sent to Mount Sinjar found that the condition of displaced Yazidis was better than expected and that far fewer were left than previously thought.
After a COBRA (Cabinet Office briefing room A) meeting on the situation in Iraq on Wednesday, UK Prime Minister David Cameron said "detailed plans are now being put in place" for an international mission to rescue Yazidis trapped in the Mount Sinjar region and Britain "will play a role in delivering it."
But on Wednesday, US defense secretary Chuck Hagel said an evacuation mission was less likely after US troops reached Mount Sinjar, because there were now fewer refugees than previously thought. This is due to the success of humanitarian air drops of food and water, airstrikes on Islamic State (IS, formerly ISIS/ISIL) targets, the efforts of the Peshmerga fighters and because thousands of Yazidis have been able to evacuate from the mountain each night over the last several days.
Hagel said current assessments on the ground made it far less likely that the United States "would undertake any kind of specific humanitarian rescue mission" that may has been in the works.
He added, however, that that would not stop Washington from carrying one out in the future.
Pentagon spokesman Rear Admiral John Kirby said, "The Yazidis who remain are in better condition than previously believed and continue to have access to the food and water that we have dropped. Based on this assessment the interagency has determined that an evacuation mission is far less likely."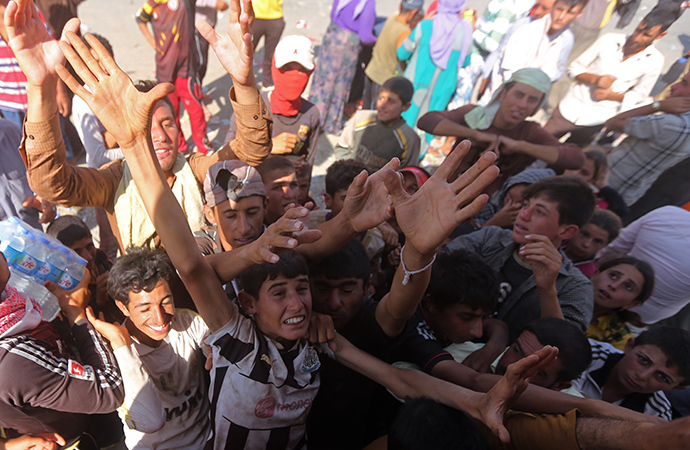 It had previously been thought there were between 20,000 and 30,000 still trapped on the mountain after fleeing IS militants.
Thousands of mainly Yazidi refugees left Mount Sinjar and fled to a camp just over the border in Syria that the International Rescue Committee is setting up.
"The UK government is also providing funding to the International Rescue Committee for their refugee camp in North East Syria, where around 12,000 people have already sought refuge after fleeing the Sinjar region," the spokesperson said.
A Ministry of Defence spokesperson declined to comment on the SAS involvement, but emphasized that it is still a humanitarian mission and not a combat mission.
"Our focus remains on alleviating the humanitarian situation," said a Downing Street spokeswoman.
Four British Chinook helicopters are said to be transporting humanitarian supplies and weapons supplied by other countries to Kurdish Peshmerga forces, who are spearheading the fight against Islamic State. The UK has already sent RAF Tornado jets equipped with sophisticated surveillance equipment to gather intelligence.
Cameron discusses Iraq with world leaders
The PM spoke with world leaders by phone on Wednesday as the crisis continues to mount, including French President François Hollande, the newly-elected Turkish president and current Prime Minister Recep Tayyip Erdoğan, and Masoud Barzani, president of the Kurdistan regional government.
In his conversation with Masoud Barzani Cameron expressed "the UK's strong support for the action the Kurdistan Regional Government is taking against ISIL," according to a Downing Street spokesperson. The PM said that the UK "would continue to do all it could to provide humanitarian support, including identifying ways to strengthen capacity at the Dahuk refugee camp." The UK also emphasized its support for PM-designate Dr Haider Al-Abadi to set up an inclusive Iraqi government in Baghdad.
In a conversation with Hollande, they agreed that the EU could do more to provide aid and that this should be addressed when EU foreign ministers meet in Brussels on Friday to discuss the crisis in Iraq.
Over four nights, the UK has successfully completed seven air drops of clean water, shelter kits to provide shade from the heat and solar lamps with mobile phone chargers to help thousands of displaced Iraqi people. Justine Greening, the international development secretary, said the UK will continue its aid drops.
The United Nations said it considered Iraq in general to be at the highest level of humanitarian crisis on Wednesday. Special representative for Iraq Nickolay Mladenov said a level-three emergency was in effect triggering additional aid for Iraq, calling the current situation a "humanitarian catastrophe."
You can share this story on social media: