Historic night in Olympic arena as Bolt seals double-double and Rudisha sets world record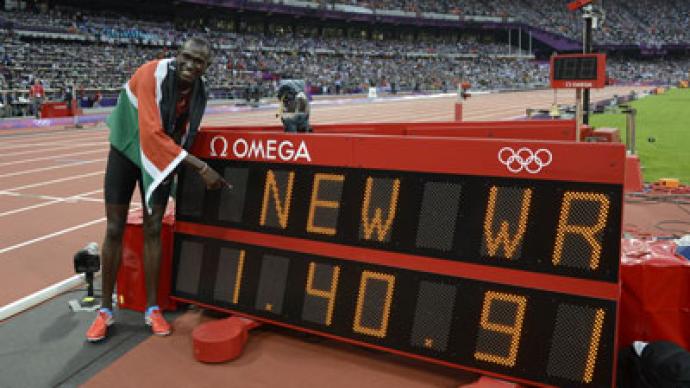 Usain Bolt has secured his place in Olympic history by winning the Olympic 200 meters to become the first athlete to complete back-to-back doubles in Olympic sprints.
From the very start, the 'Lightning' dominated his favorite distance and had enough of a lead to slow down at the line. Despite his 19.32-second winning time being just 0.02 seconds outside his winning mark at the Beijing Olympics, Bolt stylishly delivered on his promise of winning when it counts. Shortly afterwards, International Olympic Committee President Jacques Rogge suggested that Bolt should stay in the game for as long as possible."Let him participate in three, four games, and he can be a legend," Rogge said. The 25-year-old will have a chance to collect a jackpot later this week when Team Jamaica will try to defend their title in the 4x100meters relay. Jamaica took all three podium places in the 200 meters.There was a victory on Thursday, which even outshone Bolt's historic achievement though. Iconic middle-distance runner David Rudisha predicted a world record and delivered with an overpowering show to win the 800 meters title. The Kenyan set off with his giant strides from the starting gun and steadily built on his lead, as many of the year's greatest middle distance runners could never even get close. He finished in 1 minute 40.91 seconds, shaving 0.10 of a second off the mark he set in 2010."Yes, he's the greatest runner," said Timothy Kitum, Rudisha's teammate who took bronze. "He told me he was going to run a word record today." Meanwhile, Russia's medal dreams in the athletics suffered a blow as reigning world javelin champion, Maria Abakumova, finished off the podium as her old rival Barbora Spotakova claimed a comfortable win.
You can share this story on social media: