Zakharov shocks Chinese for springboard gold
Published time: 7 Aug, 2012 19:37
Edited time: 8 Aug, 2012 01:03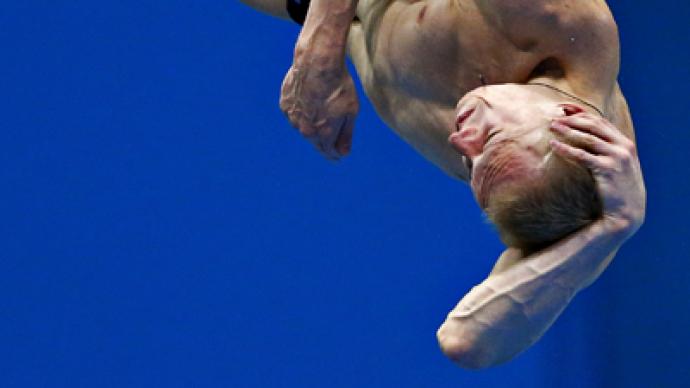 Russia's Ilya Zakharov has pulled off the impossible by beating the Chinese divers in the men's 3-meter springboard final at the London Olympics.
­Zakharov was trailing to two-time Olympic champion, Qin Kai of China, before his final attempt.
He needed a perfect jump to move into first spot and the 21-year-old managed to come up with one, getting 104.50 points for his forward four and a half somersault.
The Russia topped the standing with 555.90 points, while favorite Qin Kai scored 541.75 points to settle for a disappointing silver.

"Understanding of what has happened hasn't come yet," Zakharov told Sportbox.ru. "I was fully concentrated until my last jump. Then I slowly began to realize that it's the Olympics and it's first place. It's a great feeling."

"Yesterday I won the qualification. And I thought: 'I can do it!' I just needed to avoid mistakes and execute difficult jumps. And it worked out. My dream has come true," he added.
It's a second medal for the Olympic debutant after he finished in second in the synchronized 3m springboard together with partner Evgeny Kuznetsov.
The bronze medal also went to China, with He Chong completing the podium in the event.
Zaharov's success is a significant achievement for Russian sport as the last time the country's athletes won Olympic gold on 3-meter springboard was the home games in Moscow 1980.
Russia's Ilya Zakharov performs a dive during the men's 3m springboard preliminary round at the London 2012 Olympic Games at the Aquatics Centre (REUTERS / Jorge Silva)
Russia's Ilya Zakharov poses with his gold medal on the podium after winning the men's 3m springboard final at the London 2012 Olympic Games at the Aquatics Centre ( REUTERS / Michael Dalder)
Russia's Ilya Zakharov celebrates after a high score on his last dive won him the gold medal during the men's 3m springboard final at the London 2012 Olympic Games at the Aquatics Centre (REUTERS / Toby Melville)