Khugaev snatches another Greco-Roman gold for Russia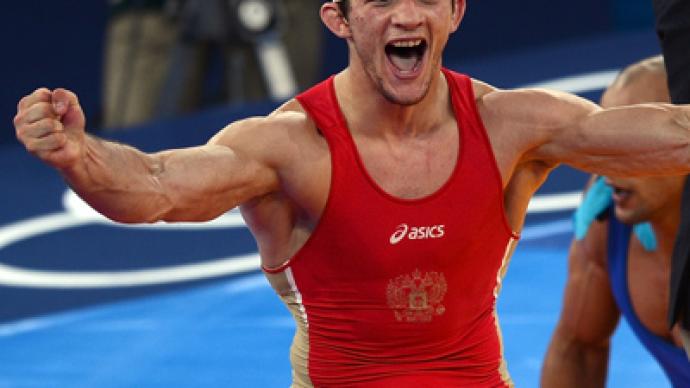 Greco-Roman wrestlers are bringing Russia gold medals on a daily basis at the London Games, with Alan Khugaev topping the podium in the 84kg category.
Khugaev faced Egyptian veteran Karam Mohamed Gaber Ebrahim, who came out of retirement to take part in the Games, in the final. In a cautious match, the 23-year-old Russian collected a 3-0 (1-0 2-0) win against the 2004 Olympic champion. The Russian's head was bandaged as he entered the match, but he says it didn't hamper his wrestling at all. "Nothing can get in your way when you're taking part in the Olympic final," Khugaev told Sportbox.ru. "You can't call this a real injury, just a dissection. I get one of these at almost every competition.""I really really wanted to win and become the Olympic champion. But all the bouts were hard today," he added.  Khugaev made the decider by taking care of Vladimer Gegeshidze from Georgia's 2:0 (2:1, 3:0) in the semifinal bout. Danyal Gajiyev of Kazakhstan and Poland's Damian Janikowski shared bronze medals in the discipline. Another Russian wrestler, Zaur Kuramagomedov, advanced from the repechage to top Hasan Aliyev of Azerbaijan for bronze in the 60kg category.  The Russian Greco-Roman wrestlers brought their country four medals (two golds and two bronze) at the London Games.