Russia's Petrova-Arkhipova takes third in Olympic women's marathon
Published time: 5 Aug, 2012 12:36
Edited time: 5 Aug, 2012 18:35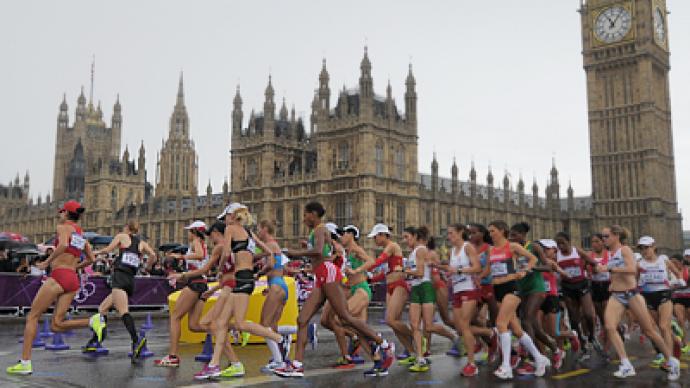 Russian runner Tatyana Petrova-Arkhipova claimed the bronze medal in the women's marathon at the 2012 London Olympics, finishing behind Tiki Gelana of Ethiopia and Priscach Jeptoo of Kenya.
­British fans were disappointed after Paula Radcliffe, their country's world record holder, didn't compete in this year's women's marathon due to an injury.
Russians pinned their hopes on Liliya Shobukhova, holder of the second-fastest record in event's history.
Shobukhova dropped out the race after 22 kilometers over pain in her right leg, leaving Arkhipova to contend for a medal.
It's widely believed that the real competition in a marathon begins around 35 kilometers into the race.
At that point, the 29-year-old Russian was among a quartet that had broken away from the rest of the pack.
The race was decided in the final kilometer, with Gelana beating Jeptoo by seconds in a sprint for first place.
The Ethiopian took 2 hours, 23 minutes and 7 seconds to complete the 42.195-kilometer distance, a new Olympic record.
Petrova-Arkhipova secured the bronze by edging out Mary Jepkosgei Keitany of Kenya, with a result of 2 hours, 23 minutes and 29 seconds.
"The final kilometers were the hardest for me," she told RIA-Novosti. "I just wanted to reach the finish. I didn't pay attention to anything else. My legs were really tired and I was afraid I'd collapse with 200 meters left."
Another Russian runner, Albina Mayorova, was ninth to cross the finish line.