Russia snatches badminton bronze
Published time: 4 Aug, 2012 11:38
Edited time: 4 Aug, 2012 19:36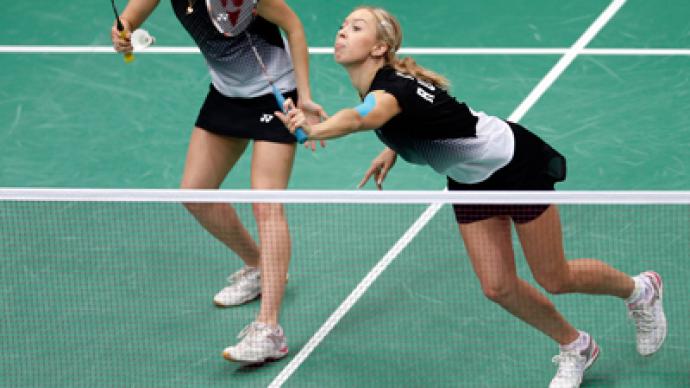 Russian badminton duo Valeria Sorokina and Nina Vislova have won the bronze medal in women's doubles at the 2012 London Olympics.
­The Russians topped Alex Bruce and Michele Li of Canada in straight sets in the bronze game at Wembley stadium, 21-9 and 21-10.

"I am extremely happy. This is the biggest achievement of my sporting life," Vislova told the R-Sport news agency. "I probably don't understand the meaning of this yet. I tried my best for Team Russia, for Russian badminton and for all those, who believed in me. I am very happy."
Both duos advanced to the bronze match after four of their rivals were disqualified. Two pairs from South Korea, and a pair from China and Indonesia each, were accused of trying to lose deliberately in an attempt to manipulate an easier draw for the knockout match.
Sorokina and Vislova's victory is an historic achievement for Russia: the first-ever medal the country has won for badminton.  
The Russian pair received greetings from the head of the country's delegation at the London Games, Prime Minister Dmitry Medvedev, who's known to be quite the badminton fan.

"In London, you've shown good techniques and skills, adding to the country's medal account and bringing joy to all the badminton lovers and Team Russia supporters," the telegram from Medvedev said.  
Last year, during his term as Russia's President, Medvedev dedicated a whole video-journal to badminton, speaking on the history of the game and encouraging everybody to play.
Meanwhile, China's Tian Qing and Zhao Yunlei and Japan's Mizuki Fujii and Reika Kakiiwa will battle it out for the gold later today.