Sharapova settles for Olympic silver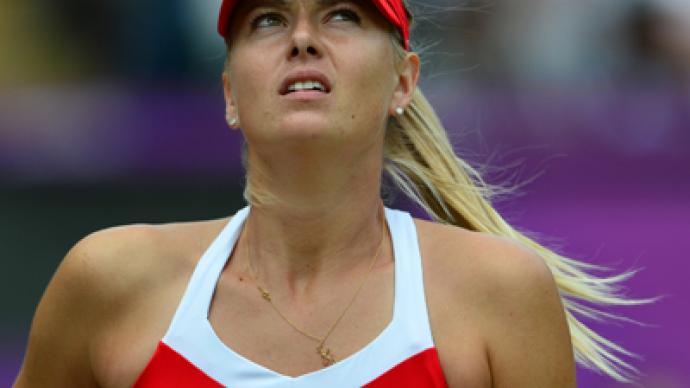 Russian flag-bearer Maria Sharapova lost out on the gold medal for tennis singles at the 2012 London Games in a final match against the in-form Serena Williams.
­The Williams won the first two games without giving her rival a single chance to score, setting the tone for the rest of the match at Wimbledon's Center Court.
After a shut-out loss the first set, Sharapova had her only chance to get back into the match with a 1-3 in the second set, but missed out on two beak point chances.
The American, who has played some remarkable matches at the Olympics so far, cruised to a 6-0 6-1 victory after just one hour and three minutes of play.
Williams finished the match with an impressive 24 total winners, ten aces and two double faults, in comparison to Sharapova's six winners, one ace and five double faults.
"It was my first Olympics and I didn't know what to expect," Sharapova told the Eurosport television channel. "I prepared as well as I could, and I'm happy with the silver medal. It was a tough evening for me. There are days like this; she [Serena Williams] played a superb game today, I hope we'll have more meetings in the future."
It's the third Olympic gold medal for Serena's trophy cabinet, adding to her doubles competition wins in the 2000 and 2004 Games.
The 30-year-old has also completed the Golden Slam, which includes winning all four majors as well as an Olympic singles gold.
There was also no luck for Russia in the battle for the bronze medal.
Despite having her hockey-star boyfriend Alex Ovechkin watching from the stands, Maria Kirilenko couldn't cope with Belarusian whiz Victoria Azarenka, going down in straight sets, 6-3 6-4.
US Serena Williams (C), Russia's Maria Sharapova (L) and Belarus' Victoria Azarenka pose with their gold, silver and bronze medals respectively at the end of the women's singles tennis tournament of the London 2012 Olympic Games, at the All England Tennis Club in Wimbledon, southwest London, on August 4, 2012 (AFP Photo / Martin Bernetti)