'I thought flag would be heavier' – Sharapova
Published time: 30 Jul, 2012 09:02
Edited time: 6 Aug, 2018 10:16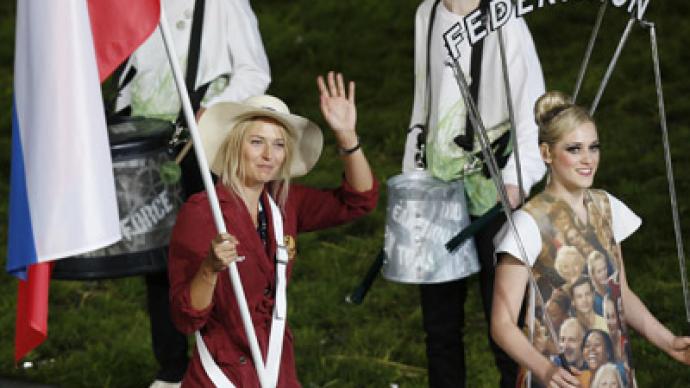 Russian tennis queen Maria Sharapova says being her country's flag-bearer at the opening of the London Games turned out an easier task than she expected.
­"It took me some time to understand the significance of the moment," Sharapova told Sportbox.ru. "I gave the flag away on the exit from stadium, got in the car and kept thinking: 'What just happened?' I should've been focusing on the upcoming match, but I just couldn't."
"By the way, I never thought the flag would be so light. Before the Games I even wanted to buff up my hands so that I wouldn't drop it," she added.
Maria has missed Beijing 2008 with injury and participation in the London Games is a dream come true for her.

"Before the opening ceremony I came to the Olympic Park to look around, talk to the athletes and feel the spirit of the Games," the World No.3 said. "I went into a cafe at the Olympic Village – and that was my big mistake. So many people wanted to have a photo with me that I couldn't even drink a glass of juice. How many shots were taken? There aren't enough fingers on both hands to count. But how could I refuse?"
The Olympic tennis competition takes place at Wimbledon, but according to the Russian, it's hard to recognize the All England Lawn Tennis Club these days.

"It's unbelievable what a magical transformation Wimbledon went through in the last couple of weeks," the 25-year-old stressed. "Usually, the audience here is so calm, traditional. And now everybody screams, makes noise and waves the flags of their countries. The atmosphere is just amazing."

Sharapova has made her Olympic debut on Sunday, thrashing Shahar Peer of Israel is straight sets, 6-2 6-0.