Russian national team manager dismisses Estonian photo scandal
Valery Karpin said the incident had been inflated into a 'political' row after several Estonian players apologized for appearing in a picture with him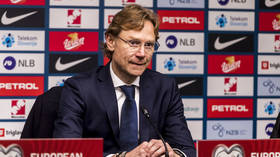 Russian men's national team head coach Valery Karpin has dismissed a row surrounding a photo with several Estonian footballers as "pure politics." The players were forced to apologize earlier this month after being pictured in a restaurant with Karpin.
"The first reaction is misunderstanding," Karpin told Russia's Match TV when asked about the scandal. "A misunderstanding of what's happening. I probably can't say anything more than that. It was a misunderstanding of what's happening now in our world."
Karpin, who was born in Narva and holds Estonian citizenship as well as Russian, was photographed at a restaurant in Tallinn at the end of December as part of a group which included several Estonian football stars, past and present. Among them was current national team captain Konstantin Vassiljev and his teammate Sergei Zenjov.
Sharing a photo of the gathering on social media, former Estonian international defender Andrei Stepanov wrote: "One company, 10 friends, 100 memories, 1000 games. New Year party to remember."
But the image prompted anger among some in Estonia, with claims that the players shouldn't be fraternizing with a prominent Russian football figure amid the conflict in Ukraine. Estonian Culture Minister Piret Hartman also argued that Estonians should do "everything [they] can not to support the aggressor," according to national media outlet ERR.
The reaction prompted the Estonian football association to issue an apology on behalf of Vassiljev, Zenjov, and assistant coach Andres Oper to "everyone whose feelings were hurt by our dinner and the publication of a photo of that on social media."
The apology came despite Estonian FA president Aivar Pohlak previously being more understanding of the photo, telling local media that "at a human level, it is our duty not only to show compassion and help to those suffering, but also to think about not losing key human rights, including the right to be acquainted with differently-minded people and the right to meet them."
In his interview with Match TV published on Monday, Karpin said that despite the broader political tensions between the two nations – which have intensified this week with accusations by Moscow of Estonia pursuing a policy of "total Russophobia" – he felt comfortable in the Baltic state.
"I can probably reassure someone: having been in Estonia for a month, I'm ready to say with confidence that this is purely a political issue. Everything that concerned my stay, my family and Russians in Estonia in general, this isn't reflected in any way at the everyday level, absolutely," said Karpin.
"I don't speak Estonian, I spoke only Russian, and absolutely all the Estonians [I spoke with] switched to Russian and communicated. I didn't feel a single sideways glance or anything else. Not to mention the fact that quite a lot of people came up to me there and wished me good luck. I felt great there and feel great. Everything that is inflated is pure politics."
Karpin's Russia team played just three matches last year following a ban from all UEFA and FIFA competitions because of the Ukraine conflict. The Russian Football Union (RFU) has established a working group alongside UEFA in a bid to resolve the issue, and has said it is targeting five friendly matches for Karpin's team in 2023, starting in March.
You can share this story on social media: