Russia outlines plans for football boost – media
The men's national team is aiming for at least five matches in 2023, according to a report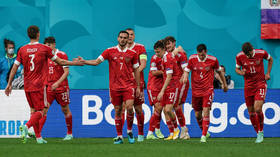 The Russian Football Union (RFU) is planning for the men's national team to play five friendly matches in 2023, which would almost double the number of games they participated in last year amid UEFA and FIFA bans.
According to TASS, the RFU has "tentatively scheduled" five training camps and the same number of games for Valery Karpin's team in the next 12 months.
Russia played just three men's international games in 2022 – traveling to Tajikistan and Uzbekistan for friendlies in November, and facing Kyrgyzstan in Bishkek in September.
A match against Bosnia and Herzegovina had been planned for St. Petersburg in November, but the Balkan nation pulled out amid pressure to cancel the game. A meeting with Iran had also been touted for the same month, but did not materialize.
This year, games are potentially planned for the end of March, the middle of June, late August-early September, mid-October, and November, according to a document seen by TASS.
Russian football remains the subject of bans from FIFA and UEFA at all levels because of the conflict in Ukraine. Originally announced on February 28, the sanctions deprived Russia of the chance to qualify for the 2022 World Cup in Qatar, and the country has already been removed from qualification for the 2024 UEFA European Championships.
Russia has thus far lost its appeals against the bans with the Court of Arbitration for Sport (CAS) in Switzerland, but the RFU has not ruled out taking its case to the higher Swiss Federal Supreme Court.
The RFU announced at an executive committee meeting at the end of December that it would establish a working group alongside UEFA, in an effort to find a way back to international competitions for Russian teams.
Russian officials set a deadline of the beginning of April to resolve the issue, with a switch from UEFA to its Asian counterpart, the AFC, being raised by some as a potential alternative.
You can share this story on social media: