Russia won't wear kits made by German sportswear giant – official
The national team will make a change from Adidas, according to the Russian Football Union (RFU)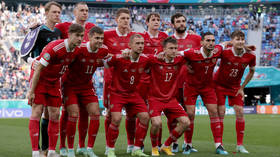 The Russian Football Union (RFU) will have a new kit provider for national teams after changing from German sportswear giant Adidas, according to RFU president Aleksandr Dyukov. The step will end more than a decade of continuous cooperation between the two sides.
"We can say with confidence that in 2023 we will not have an Adidas kit," Dyukov said on Saturday, as quoted by TASS. "When will there be a new partner? In the first quarter [of 2023]. We're negotiating at the moment – there will be a new technical sponsor."
Adidas has provided Russian national teams with kits since 2008, taking over from a previous deal with Nike. The RFU announced a new agreement with Adidas in August of 2021, which was due to run until 2026.
However, the deal was suspended in March following the launch of Moscow's military campaign in Ukraine. As well as suspending its cooperation with the RFU, Adidas has closed all its stores in Russia.
The Russian men's national team still wore Adidas kits for international friendly matches against Kyrgyzstan in September and Tajikistan and Uzbekistan in November.
Russian teams have been banned from official UEFA and FIFA competitions at all levels since February 28, after the organizations acted on a recommendation from the International Olympic Committee (IOC). The sanctions deprived the Russian men's team of the chance to qualify for the 2022 World Cup in Qatar, and they have already been removed from the qualifying draw for the 2024 European Championships.
Amid the bans, there were proposals for the RFU to leave UEFA and join its Asian counterpart, the AFC, although Russian football officials announced in December that they would establish a working group alongside UEFA in an effort to find a way back to competition for Russian teams.
You can share this story on social media: