UEFA looking into re-instating Russia – Moscow
Russian athletes have been suspended from many contests between nations for several months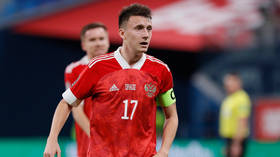 European football's governing body UEFA is to form a working group to discuss Russia's potential return to the international football fold, according to Secretary General of the Russian Football Union (RFU) Maxim Mitrofanov.
Russia has been indefinitely suspended from participation in international football tournaments for much of the past year due to international opposition to the situation in Ukraine, prompting figures within Russian football to contemplate a switch from UEFA to the Asian Football Confederation (AFC).
It was thought that if Russia transferred its registration to the AFC that its eligibility to qualify for international tournaments, such as the FIFA World Cup, would be reintroduced.
Qualification fixtures for the 2026 FIFA World Cup, which is to be jointly hosted by the United States, Mexico and Canada, begin in October of this year.
But, according to Mitrofanov, it was concluded by both the RFU and UEFA that a working group will be launched to identify and oversee a potential roadmap for ending Russia's exile from international football within the existing UEFA infrastructure.
"We plan that UEFA will form a working group this week," said Mitrofanov, via RIA Novosti.
"We are still waiting for who will join it. This is a matter of consultation, each side will make its proposals. Now work is underway in a standard mode."
He added: "Colleagues from UEFA must understand this and participate in the creation of a roadmap, the removal of the gradual restrictions that exist."
RFU head Alexander Dyukov has also stated that he plans to invite figures from both FIFA and the International Olympic Committee (IOC) into the working group.
The IOC has been central to the wave of sporting sanctions imposed on Russia since last February, with several sporting federations across the globe following its lead on imposing restrictions on Russian sport.
However, IOC president Thomas Bach has recently said that he believes that such sanctions shouldn't impact Russian athletes specifically, but that the collective penalties should continue for now.
"We will not paint everybody with the same brush because of the actions of their Government," Bach said in December.
"Athletes should never be the victims of policies of their own Government."
You can share this story on social media: