Estonian footballers apologize for photo with Russian national team manager
The players were pictured with Valery Karpin at a gathering to celebrate the New Year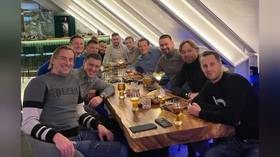 A group of Estonian footballers has apologized after a photo appeared on social media of them having dinner with Russian national team manager Valery Karpin.
The image was shared on Instagram by former international defender Andrei Stepanov and featured Karpin at a restaurant alongside football stars past and present, including current Estonian national team captain Konstantin Vassiljev.
"One company, 10 friends, 100 memories, 1000 games. New Year party to remember," read the caption to the image, which was posted on December 31 and is tagged as being taken in Tallinn.
The Estonian players came under fire from some fans who claimed that socializing with Karpin was "unacceptable" considering the conflict in Ukraine. Culture Minister Piret Hartman also argued that Estonians should do "everything [they] can not to support the aggressor," according to national media outlet ERR.
The Estonian football association has responded by issuing an apology on behalf of Vassiljev, teammate Sergei Zenjov, and assistant coach Andres Oper to "everyone whose feelings were hurt by our dinner and the publication of a photo of that on social media."
"Our conversation only covered football, we didn't talk about politics or war," added the statement, which was shared by ERR. "Our position regarding the war has always been the same – there is no justification for it. We have always stood up for Estonia on and off the football pitch, and we will continue to do so."
Estonian FA president Aivar Pohlak had previously been more understanding of the photo, telling local media that "at a human level, it is our duty not only to show compassion and help to those suffering, but also to think about not losing key human rights, including the right to be acquainted with differently-minded people and the right to meet them."
Karpin, 53, was born in Narva and has Estonian citizenship as well as Russian. He was appointed manager of the Russian national team in 2021 and coaches club team Rostov in the Russian Premier League.
Karpin played for SK Tallinna Sport at the start of his career, before moving to Russian giants CSKA Moscow and Spartak Moscow, and later playing at Spanish teams including Celta Vigo and Real Sociedad. Karpin won 72 caps for the Russian national team during his career.
You can share this story on social media: