No need to 'fight' Russian culture – EU nation's president
The public shouldn't take out political frustrations on language, Alar Karis has said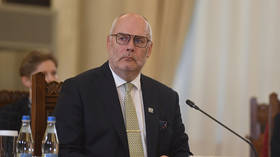 There is no need to "fight" the Russian language, Estonian President Alar Karis has told a state broadcaster, dissenting from recent anti-Russian sentiments voiced by Ukraine and the Baltic country's neighbors. His comments come after the government in Tallinn rolled out linguistic requirements for education that target the quarter of the nation's population who speak Russian at home.
Knowing multiple languages is a good thing, "until they put chips in our heads and we can understand others automatically," Karis told the ETV broadcaster in an interview recorded on December 29.
"Language is a tool," he said. "I see no reason to fight against languages. Russian itself is a language of culture. And Russian, unfortunately, you need to start learning earlier than other languages, because it has a different alphabet and it is more difficult to master. At least that's what the teachers say."
There is no reason to fight against languages, just as there is no reason to fight against Russian literature.
His comments came as officials in Kiev called for a boycott of Russian language and culture in relation to the conflict in Ukraine. The culture minister of nearby Lithuania, Simonas Kairys, has said an outright ban would be "authoritarian" but urged a "mental quarantine" on Russian culture instead.
"I think part of education is that we are able to understand literature that does not correspond to today's understanding of how we would like to see the world, in accordance with its era: when the book was written, and why it was written," the Estonian president said.
Karis claimed he knew ethnic Russians who now refused to speak Russian due to the conflict in Ukraine, but described this as a "passing phenomenon."
"You shouldn't blame the language for anything," Karis added.
One of the reasons Karis addressed the language issue was Estonia's push to drive Russian out of schools. Under a program approved by the education ministry on December 17, all kindergartens and elementary schools will switch to Estonian-only instruction by 2024. All teachers will have to be fluent in the national language as a requirement for employment.
About a quarter of Estonia's population speaks Russian at home. Currently, Russian speakers have the right to education in their mother tongue up to the 9th grade, while at higher levels about 40% of classes are taught in Russian, according to the Interfax news agency.
You can share this story on social media: