Jake Paul announces MMA deal
The social media influencer could make his debut with the PFL in 2023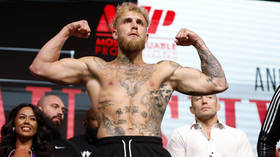 YouTuber-turned-boxer Jake Paul will take his first steps in the world of MMA after it was announced that he has signed a multi-fight deal with the Professional Fighters League (PFL).
Paul holds a professional boxing record of 6-0 but has previously teased a move into MMA. His deal with the PFL was announced on Thursday as Paul joins a new 'Super Fight' division which will see competitors bank at least 50% of pay-per-view revenue, according to organizers.
Paul has consistently taken aim at MMA's biggest promotion, the UFC, accusing it of underpaying and mistreating fighters. The influencer has assumed the title of 'head of fighter advocacy' at the PFL and he and his business partner, Nakisa Bidarian, have acquired an equity share in the organization, according to the New York Times.
Paul does not have an opponent confirmed for his first MMA outing but he intends to compete in both the ring and the cage this year. Elsewhere, PFL chairman Donn Davis cautioned that it might not be until 2024 that Paul makes his MMA debut.
The PFL announced the news on its website, calling the deal "the most disruptive" in MMA history. Paul said that he was "taking this seriously" as he talked up the move.
"Yes, I still want to become a world champion in boxing, but as you guys know, I was a wrestler first. And when all of these influencers started boxing and calling people out, you recall that I said I wanted to do MMA. I've already disrupted boxing, and now it's time to disrupt MMA," added Paul.
Paul said he had already called out UFC icon Nate Diaz for a two-fight deal, with the first contest in the ring and the second in an MMA bout.
"Nate Diaz, I'm down to fight you in your own sport. Let's make it happen," said the former Disney star. Diaz, 37, is currently a free agent after his deal with the UFC ended.
Paul, 25, has already fought several former MMA stars in the boxing ring. He outpointed Brazilian ex-UFC icon Anderson Silva in his last fight in October, and twice earned wins over former UFC welterweight title holder Tyron Woodley – the second of which came via a brutal knockout. Prior to that, Paul KO'd former UFC contender Ben Askren.
You can share this story on social media: