Tennis star Daniil Medvedev is ruled out of Monte-Carlo Masters by Covid-19 test – a day after practice with Rafael Nadal (VIDEO)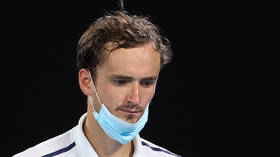 Russian world number two tennis player Daniil Medvedev, who played with Rafael Nadal on Monday, will not be involved in this week's Monte-Carlo Masters following a positive test for Covid-19, the ATP announced on Tuesday.
Medvedev, who was seeded second behind men's world number one Novak Djokovic for the tournament at Roquebrune-Cap-Martin, is currently in isolation and being monitored by the tournament and ATP medical teams, the Tour said.
The 25-year-old Muscovite, who had earlier questioned the delay of the French Open at Roland Garros, becomes the highest-ranked player to test positive mid-tournament and the setback will hurt his chances of closing the gap on Djokovic at the summit of the men's rankings.
Australian Open finalist Medvedev had been shown taking part in an intense practice session with world number three Rafael Nadal yesterday.
"It's a big disappointment not to play in Monte-Carlo," Medvedev lamented in a statement.
"My focus is now on recovery and I look forward to getting back out on Tour as soon and as safely as possible."
Medvedev confessed to confusion after watching tournament organizer Jayne Hrdlicka receive a frosty reception when she mentioned vaccines in the ceremony after his final in Melbourne against Djokovic.
"As for me personally, I will not be vaccinated for medical reasons related to vaccines," he told Championat at the time.
"Naturally, I believe that this should be everyone's choice. It is never really known what the conditions will be in different countries in connection with the tournaments, how serious it will be.
"But in principle, everyone on the tour should probably be treated in such a way that it just should be everyone's choice."
Also on rt.com
'Covid will disappear in one week': Russian sensation Danill Medvedev points out 'ridiculous' situation after delay to French Open