'I was fighting in a dungeon': UFC star Cub Swanson on his early days in MMA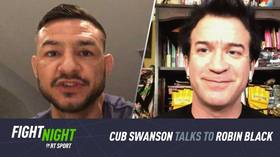 UFC veteran and longtime featherweight contender Cub Swanson joined Robin Black on Fight Night on RT Sport and lifted the lid on his early days as an MMA fighter.
Swanson revealed that he started out fighting in bars and nightclubs in Mexico, before progressing up the ranks and eventually competing on the global stage with the WEC and the UFC.
READ MORE: 'I am the people's main event, every damn time' -UFC welterweight star 'Platinum' Mike Perry
Chatting on the show, Swanson admitted that now, 35 fights into his pro career, he does sometimes look back to his early days to see just how far he has come in the sport.
"It's kind of surreal, you know," he said. "I was fighting in basically a dungeon. It was like something you'd see out of a movie.
"BJ Penn was there with a bunch of guys, and all these guys happened to be there cornering other people. The Tapout crew had a booth there.
"We were just in Tijuana in a nightclub. I was like 'This is crazy! This is pretty surreal!'"
Swanson said that while those early bouts in nightclubs may not have been huge earners for him, they did show him a glimpse of the world he needed to be a part of in order to become the best martial artist he could be.
"That was when I realized I needed to move and I had to go find what I had at that point because I was only doing jiu-jitsu at the time," he explained.
"I had to go and seek out big gyms. That was an eye-opener for me - just being in the locker room, being quiet and listening to other camps talking and learning what they were doing, and going 'Wow, that's way more than I'm doing!'"