'I am the people's main event, every damn time': UFC welterweight star 'Platinum' Mike Perry (VIDEO)
Published time: 15 Apr, 2019 20:10
Edited time: 16 Apr, 2019 11:43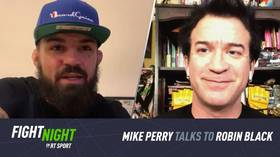 The always-entertaining 'Platinum' Mike Perry joined Robin Black during Fight Night on RT Sport to chat about the fights at UFC 236, and lifted the lid on his preparations ahead of his octagon return on April 27.
Perry shared his thoughts during the show, which aired live on YouTube during UFC 236 on Saturday night.
The the Florida welterweight chatted about his upcoming bout with Alex 'Cowboy' Oliveira at UFC on ESPN 3 later this month.
"I don't know what we're going to see out of me," he admitted.
"I don't know if I'm going to go in there calm and try to stick and move and bounce around, or if I'm going to get too excited and meet him right in the middle and throw some bangers.
"I know that every time, everybody I fight, if they get clipped, they're shooting for the takedown.
"That's the sport of MMA. It's defend the clinch, break the distance, and strike. That's the sport.
"And if I master that, I think I'll be champ one day."
As he plugged his upcoming fight, Perry let everyone know that he's the fight everyone will tune in for.
"Jacare Souza is the main event, but 'Platinum' Mike Perry is The People's Main Event, every damn time!"