David Beckham v Inter Milan: Who will gain upper hand in trademark battle?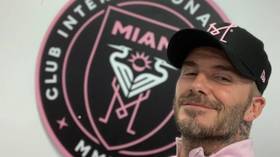 David Beckham has become embroiled in a legal battle over the name of the newly founded MLS club – Inter Miami CF, after Italian football giants Inter Milan claimed copyrights over the team's name.
The former Manchester United and Real Madrid player is currently working on setting up his own team in the USA, which is expected to make its MLS debut next year.
READ MORE: Football icon Pele hospitalized after attending event with Kylian Mbappe in Paris
However, preparation for the inaugural season has been marred by the trademark row after the Italian club filed a complaint to the US Patent and Trademark Office (USPTO), accusing Beckham's franchise of copyright infringement.
In 2014, Inter Milan filed a trademark application with the USPTO, in a bid to make the word 'Inter' its exclusive brand.
Also on rt.com
Football icon David Beckham reveals franchise name & emblem - Twitter trolls assemble!
Last September, the MLS announced the league's expansion introducing Inter Miami CF, formally known as Club Internacional de Futbol Miami, as its 25th team for the 2020 season.
Right after the announcement Inter Milan took to social media to remind the US-based club that the name "Inter" exclusively belongs to the Italian club.
To challenge Inter Milan's 'exclusive rights,' the MLS filed a notice of opposition on March 25, claiming that the term "inter" has been widely used in soccer and cannot be associated with just one team.
"Because of the widespread use of the term "INTER" in soccer, the relevant consumers do not associate the term "INTER" with one soccer team," the notice of opposition reads.
READ MORE: David Beckham trolled for kissing daughter on mouth in Insta pic
"No one soccer team can claim exclusive rights to the term INTER, therefore Milan has no exclusive rights to the term INTER. As a result, Milan is not entitled to register the designation INTER for the goods and services set forth in the INTER Application."
The USPTO is expected to deliver its verdict on the Inter issue by May 4.
Beckham himself played for MLS team LA Galaxy from 2007 to 2012 before ending his professional career at Paris Saint-Germain.
You can share this story on social media: