Football icon David Beckham reveals franchise name & emblem - Twitter trolls assemble!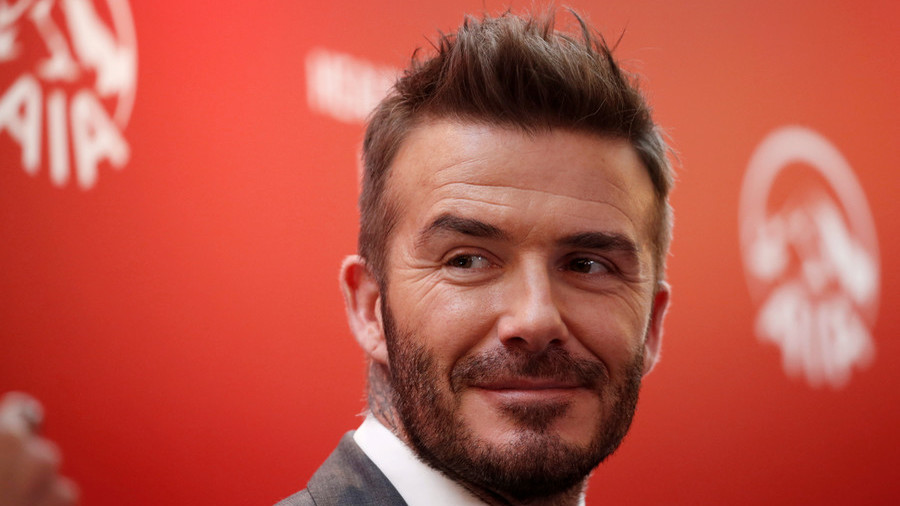 Football legend David Beckham, known for sometimes flamboyant tastes in fashion, has revealed the name of his Major League Soccer (MLS) franchise will be Inter Miami - featuring a pink club emblem with the image of two birds.
READ MORE: Man Utd boss Mourinho 'accepts 1-year jail sentence' over tax fraud case
Ex-Man United and Real Madrid star Beckham, 45, revealed the new name of the Florida-based team will be Club Internacional de Futbol Miami - Inter Miami for short - and their pink badge would feature two herons - the city's native birds.
Between the feathered is a sun with seven rays - which is a nod towards the former England captain's number 7 shirt, which he became famous for wearing for his country.
A proud Beckham wrote on Twitter: "Four years ago, we dreamt of a soccer club. Today, we're proud to announce the official name and crest of our new team, Club Internacional de Fútbol Miami."
Despite pink being a universal color of love and affection, not everyone has been enamored with becks' choice of name and club sign - mocking everything from the design to the name and back again.
However, the design and the name were not without their fans, many welcoming a football team to the state, which will be its second in the MLS after Orlando City.
Beckham will introduce his Inter Miami franchise into the league in 2020 after they were awarded an expansion contract to join in January.
The Miami New Times in July reported that Beckham and local partner Jorge Mas were quesitoned by locals as to a $44 million annual tax projection, to be accumulated via sales at Melreese Country Club, where the club's proposed new stadium would be built.
READ MORE: #JustBurnIt: Furious Nike customers destroy sports gear over Kaepernick ad (VIDEOS)
The complex which would include a hotel, office space, public park, golf-entertainment facility, and 600,000 square feet of new retail space in addition to the stadium. The outlet said that the economic figures of the pitch was "almost certainly nonsense".
Prior to the plans being submitted, locals had expressed doubts on The Stan Collymore Show, as to whether the club's profits would make their way back into the club.
On Tuesday, Spanish league La Liga gave the green light for a controversial overseas match to take place on US soil, with Girona 'hosting' Bercelona in Miami, following a 15-year deal being made with American company Relevent.
You can share this story on social media: