UFC Brooklyn as it happened: Relive Henry Cejudo's quickfire win over TJ Dillashaw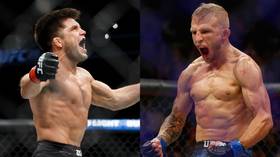 The first UFC event of the new ESPN era kicked off in Brooklyn, New York with a stacked card of fights in the Big Apple. RT Sport followed the action live, and you can recap the action via our main card updates.
20 January 2019

05:31 GMT

THANKS FOR FOLLOWING

That brings us to the end of our live updates from UFC Fight Night in Brooklyn, New York.

We had spectacular action, we had emotion, we had drama and we had controversy.

So, just another UFC event, really!

Check out our post-fight reaction on RT Sport and join us again for live updates on the next big event.

05:28 GMT

TJ Dillashaw is not happy with the stoppage, and said that Cejudo "didn't beat me".

He might want to watch the replay.

That was a clear and deserved stoppage win by Cejudo, who becomes the first man to win the new UFC legacy title belt.

05:21 GMT

FIRST-ROUND KNOCKOUT!

Henry Cejudo just smoked TJ Dillashaw in double-quick time.

The Olympic gold medalist rocked Dillashaw early, then swarmed the bantamweight champion before overwhelming him with strikes the claim the super-fast TKO victory.

Cejudo now has victories over the best flyweight of all time (Demetrious Johnson) and the best bantamweight of all time (TJ Dillashaw) in consecutive fights.

Absolutely incredible from Cejudo.

05:13 GMT

IT'S MAIN EVENT TIME

After the controversy of the co-main event, it's time for a truly elite-level mixed martial arts bout, as the UFC bantamweight world champion TJ Dillashaw moves down to 125lbs to challenge reigning champion and Olympic gold medalist Henry Cejudo for the UFC flyweight world title.

It's a matchup that showcases two supremely-talented athletes and, in Dillashaw, a man who may well be one of the top two or three best pound-for-pound fighters on the planet.

The big question tonight is whether he's physically at 100% after enduring the tough weight cut to 125lbs. He certainly seems to have done things the right way, and made weight with ease on Friday.

As for Cejudo, he's on a roll after dethroning the best fighter in the world, Demetrious "Mighty Mouse" Johnson, in his last fight. He wants to beat Dillashaw at 125lbs, then get a rematch for Dillashaw's bantamweight title at 135lbs in his next outing.

This one should be fascinating.

05:08 GMT

Kiwi UFC lightweight Dan "The Hangman" Hooker didn't mince his words when he reacted on Twitter to Greg Hardy's disqualification at UFC Brooklyn.

He knew it was illegal. Wanted a way out. Women beaters are all cowards.

— Dan Hangman Hooker (@danthehangman) January 20, 2019

05:02 GMT

CONTROVERSY IN BROOKLYN

Hardy started the second round in composed fashion, but after Crowder started talking to him, the fight exploded into life once again.

And after Crowder's takedown attempt was well defended by Hardy, the former NFL star then landed a collossal knee to Crowder, sending him crashing to his back.

However, Crowder was clearly on one knee and clearly grounded. Referee Dan Miragliotta stopped the bout immediately and, after it became clear that Crowder couldn't continue, the experienced referee disqualified Hardy immediately, handing him his first professional loss.

It was a clear foul, a bad foul and one that drew a chorus of boos from the Brooklyn crowd - and it's done nothing to improve Hardy's bad-boy image.

04:55 GMT

To the surprise of many, that first round was largely dominated by Allen Crowder.

Hardy came out all guns blazing, as we all expected, but Crowder's chin held up well, and he took over with his wrestling and grappling as he took the former NFL star to the mat and looked to work his way towards a submission.

Eventually Crowder attempted a guillotine choke, but after that failed, he ended up in trouble, with Hardy looking to finish the round strongly.

But that proved that Crowder is not going to disappear quickly, as he took Hardy into the second round for the first time in his career.

04:46 GMT

Coming up next, it's the co-main event, as former NFL star turned MMA fighter Greg Hardy makes his octagon debut against Allen Crowder.

Hardy's presence in the UFC is controversial, to say the least.

He was found guilty of domestic violence offences, but had the charges dropped after his alleged victim refused to testify in the appeal.

The incident cost him his successful NFL career with the Dallas Cowboys, and saw him transition to mixed martial arts.

He competed twice in Dana White's Tuesday Night Contender Series and impressed with two huge quickfire knockouts and, for better or worse, White has thrown his support behind a rehabilitated Hardy as he looks to continue his athletic career in a new sport.

But the shadow of his past looms large over Hardy, with many people hoping to see Crowder score an unlikely knockout win against the heavy-handed former NFL star tonight.

04:40 GMT

TKO!

Gregor "The Gift" Gillespie extends his perfect professional record to 13-0 with a dominant stoppage victory over Yancy Medeiros.

Gillespie took Medeiros to the mat, took his back, flattened him out and battered him with strikes to finish him by TKO with one second remaining in the second round.

The official stats are incredible. Despite fighting for one second shy of two rounds against a dangerous fighter, Gillespie was hit with just one strike. ONE!

That shows just how dominant he was in this fight, and the only way is up for the man known as "The Gift".

04:33 GMT

Gregor Gillespie completely dominated Round 1 against Yancy Medeiros.

The former collegiate wrestling champion used his mat skills to good effect in the opening five minutes as he stifled the Hawaiian for the entire round.

The crowd aren't that thrilled, and we've heard a few boos at the lack of striking action, but make no mistake, Gillespie is executing his gameplan perfectly so far.