'I hear some fans aren't happy, it's ok I'll be back' - 1st trans male US boxer after pro debut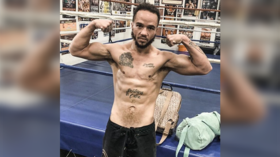 American super featherweight fighter Patricio Manuel made history on Saturday by becoming the first ever US transgender male boxer in the sport, and then had some sure words for "naysayers" who booed his performance post-fight.
Manuel defeated Mexican opponent Hugo Aguilar via unanimous decision after four rounds at the Fantasy Springs Casino, Indio, California, a professional debut that also marked the first time a transgender male had stepped through the ropes in the paid ranks in America, but it didn't come without its doubters.
The 33-year-old Manuel was born a woman but made the transition to become a man five years ago. Despite requesting that ringside commentators not mention he was once a woman, some fans expressed their displeasure at Manuel's performance after the decision was announced.
Speaking in his post-fight interview, Manuel - who goes by the nickname 'Pat' or 'peanut' - addressed the "naysayers" and vowed to carry on fighting, insisting boxing is more than just a hobby or a statement.
"I think if people knew what it took to get to this moment, it's been almost two years since I've been in the ring," Manuel began, before going on to praise his opponent, and the addressing some ringside fans jeering in the crowd. "I hear some fans aren't happy, it's ok I'll be back, I'll make you happy then!"
When asked what the next step in his career would be, Manuel replied: "What's next? I've got some naysayers out there I need to prove that I deserve to be in here as well. I'm not in here just for one show, for one fight. This is something I love. I'm not done with this sport, I'll be back," the tattooed Manuel concluded.
Manuel boxed as an amateur in the 2012 Olympic trials as a woman, and began making the change to a woman not long after a shoulder injury curtailed her unpaid career. Surgical scars on the fighter's chest and abdomen from the procedure were clearly visible in the ring on Saturday.

His opponent Aguilar learned of Manuel's transition just two days before their bout but insisted it was not a problem.
You can share this story on social media: