Fury as Women's Copa Libertadores winners forced to give $55,000 prize money to pay MEN'S team debts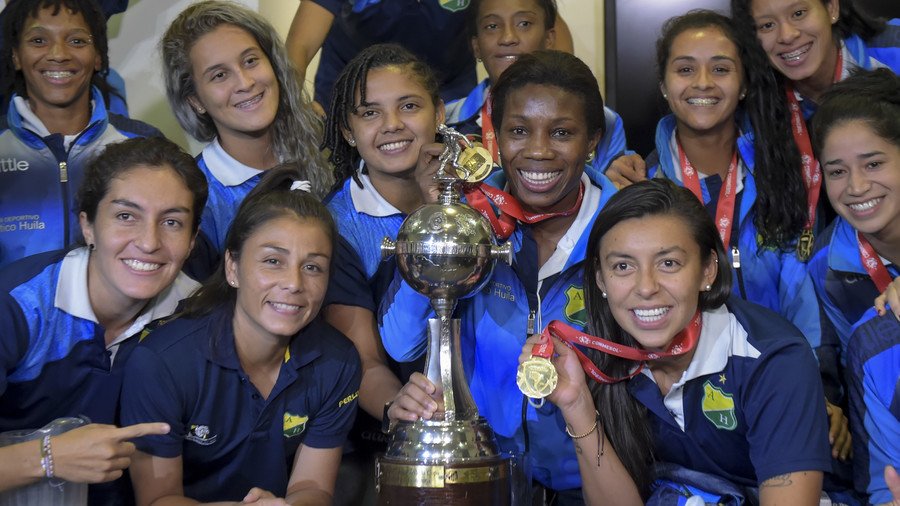 South American football has again become mired in controvery, this time accused of sexism, as women's Copa Libertadores winners Atlético Huila will hand over their entire $55,000 prize money to pay off their men's team's debts.
READ MORE: Violence erupts as Copa Libertadores final postponed due to bus ambush (VIDEO/PHOTOS)
Colombian side Atlético Huila Femenino scooped the 2018 Copa Libertadores Feminina, the women's version of the continent's most prestigious competition, with a dramatic 5-3 penalty shootout versus Brazilian favorites Corinthians on Monday after a 1-1 draw in normal time.
However, it looks as though the trophy is the only thing the players will have to show for their efforts.
Huila midfielder Yoreli Rincon later explained that none of the players would see the $55,000 jackpot from South America's football federation CONMEBOL for winning the most coveted gong in the game - with every penny instead being handed over to the men's team to settle outstanding debts.
"For being champions we won $55,000, money that will never reach us, that goes to the men's Atlético Huila, a team that has a different president than we have," Rincon said in a video posted on social media.
"Yes, we have a recognition that our president is going to give, but it's his pocket, but it's not our prize won for being champions of the Copa Conmebol Libertadores 2018, unfortunately that is women's soccer," she added.
Atlético Huila star Yoreli Rincón claims the $55k prize money the women's team earned from winning the Copa Libertadores on Sunday will go straight to the Huila men's team. "None of it will go to us, it's unfortunate but that's women's football."https://t.co/r9rrdRWIi0

— Carl Worswick (@cworswick) December 4, 2018
Rincon's Argentinian teammate Aldana Cometti echoed those words, and urged Diego Perdomo, the women's team president, to personally compensate the players.
"The reality is that the money goes directly to the club and we will not see it, because of the debts that the men's team has, that money goes directly to them, then the only thing that remains is for our president Diego Perdomo, the one who takes care of us, to give us an acknowledgment from his own pocket," she said, Marca reported.
READ MORE: Badboy Russian internationals to spend CHRISTMAS in jail as court extends remand until New Year
The news comes as the decisive second leg of the men's Copa Libertadores between Buenos Aires rivals Boca Juniors and River Plate, was suspended numerous times due to fan violence and finally rearranged to be played at Real Madrid's Bernabeu Stadium on Sunday in the Spanish capital.
You can share this story on social media: