Flippin' amazing: UK gymnast sets incredible backflip world record on horizontal bars (VIDEO)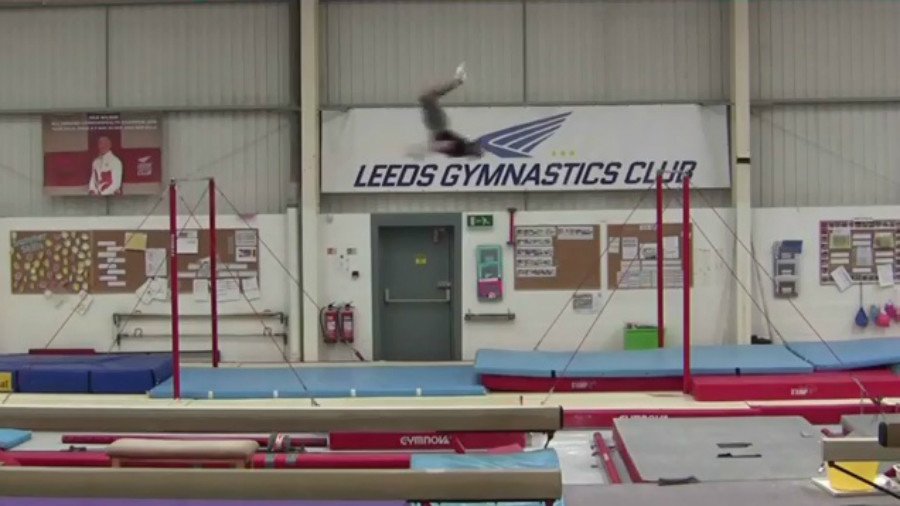 British gymnast Ashley Watson propelled himself into the world record books when he pulled off an incredible backflip between horizontal bars almost 20 feet apart.
Watson, 26, is a longtime member of Team GB and registered the incredible feat at Leeds Gymnastics Club in the UK.
READ MORE: Kadyrov says 5yo Chechen can repeat 4,100 push-ups after 'world record not recognized' (VIDEO)
The distance was officially registered at 5.87 meters, and was confirmed as a new record by two independent witnesses and a chartered surveyor who took the measurements.
Watson shared the gravity-defying leap on his Instagram account.
Incredibly, he is said to have pulled off the backflip twice – but deleted the first footage as he was unhappy because his legs bent on landing.
"It was amazing, I didn't realize I had caught it until I was swinging around on the other bar," Watson said, according to the Sun.
"I caught it on the sixth attempt but I let my legs bend a bit – so I couldn't let that one go out on film."
Watson has previously competed at the British and European Championships, and has been a member of Team GB since the age of 15.
READ MORE: Russian footballer scores incredible 'backflip' penalty (VIDEO)
He frequently posts clips of his prowess and various feats of daring - also comparing himself to the famous 'Moutain' character from Game of Thrones, played by giant Icelandic bodybuilder Hafþór Júlíus Björnsson.
On this evidence, he seems a bit more agile than the giant Icelander would be on the bars.
You can share this story on social media: